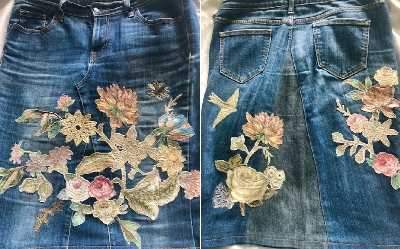 Friday 13/05/2022
10:00 am - 4:00 pm
Booking is currently closed
Prices : £70.00
Upcycled Jeans Skirt
What do you do with those jeans that perhaps are slightly too tight around the thighs, too short or ripped on the legs. Don't throw them away – turn them into a great new upcycled jeans skirt!
Billions of tons of denim jeans end up in landfill every year. Even those that are given to charity shops or put in the textile recycling bin often end up in landfill.  So help save the planet and give your old jeans a new life as a wearable skirt. Denim skirts are great for the summer worn with a bikini top, crop or strappy vest. Or in Winter, team it with chunky tights and boots. It's a year all-rounder and no wardrobe should be without one.  And they look even better if they can show that they've had a bit of a previous life.
But it doesn't have to be denim.  If you've got any trousers that you don't wear anymore, then you can turn them into a skirt too.  Or just bring something you already have to decorate with applique.
Textile Waste constitutes 5% of landfill space.
Fashion is the 2nd most 'dirty' industry, after oil and the UK is the 4th largest polluter in terms of textile waste. Don't be a fashion victim but choose and use in a more considered way, and make use of what you have. Develop your own individual style and everyone will be asking 'Wow. I love your skirt.  Where did you get it?'
Make it even more special by decorating with applique, beads, buttons and embroidery.  The photo shows just a few ways you can decorate but you can really go to town.
This is a fun and easy re-make for jeans, corduroys or any other trousers for that matter. They must be a good fit on the waist and hips if you want to be able to wear the skirt!
You'll need:
a pair of jeans, (flare or bootleg)
topstitching thread to match the colour on your jeans already,
any fabrics or trims you'd like to use to decorate your skirt
a basic sewing kit (fabric shears, marking pen/pencil, pins, small sharp embroidery scissors and a quick unpick)
I'll provide you with bondaweb to applique your decoration.
There are sewing machines available in the studio but if you prefer to bring your own, then you'll need a denim needle or standard needle size 100/16. Please also bring your accessories (presser feet), instruction manual, and please check that you have your power cable/foot control.
Duration: 10am – 4pm (there will be a break for lunch)
Level: Improvers (confident sewing skills required)
Useful links:
If you struggle to sew denim with your sewing machine, then check out my blog: Get to the point: how to choose the best sewing machine needles.
Location:
Studio 6.03A St Margaret's House, 151 London Road
Edinburgh
EH7 6AE
Bookings
Bookings are closed for this event.