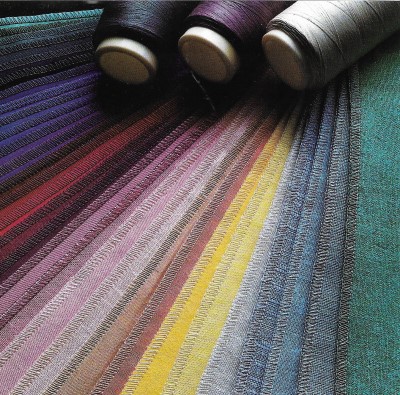 Beginners Guide to Overlockers.
Overlockers used to be a little known tool limited to factories, professional dressmakers or very keen amateurs.  But probably because of exposure on TV programmes and social media, they've experienced an explosion in popularity in the last few years. They are now very much an essential tool for many home sewers. However, they're not so easy to use 'out the box' than sewing machines and require the user to develop a whole new set of skills.  Not surprisingly, there's a lot of confusion about their use. I've written this Beginners' guide to overlockers to answer many of the most common questions and dispel the myths. Note: In the USA, overlockers are known as sergers.
Overlockers were in fact, invented in 1881, shortly after sewing machines. But they were reserved exclusively for industrial use until 1967. That was when Juki introduced the first domestic overlocker.  Even then and in subsequent decades, their use at home was rare.  They were expensive to buy, and only available from specialist dealers, which again kept them fairly exclusive.
What is an overlocker?
An overlocker is a type of sewing machine that sews seams, trims and neatens the fabric edges all at once.  It is used extensively in the garment manufacturing industry as entire garments can be produced in minutes with a neat and durable finish.
How do overlockers work?
An overlocker works in a completely different way to sewing machines.  Firstly there's no bobbin; instead it has two loopers.  The upper looper sits on a piston which moves vertically.  The lower looper looks like a long finger that rocks in an arc from left to right. The loopers wrap the edge of the fabric in thread, then there are two needles that stitch down the loops.  The loopers do not penetrate the fabric.
Do I need an overlocker?
They're not absolutely necessary for home dressmaking or soft furnishing.  So if you've recently started sewing, get used to your sewing machine first and gain a good understanding of garment construction methods.  Overlockers are a huge step up from regular sewing machines. Crucially, ensure you understand how the thread tension system works on your sewing machine.  Without an overlocker, fabric edges can be neatened with zig-zag. Alternatively, you can use a variety of other methods such as French or flat fell seams, binding, or the turned-under 'clean finish' method. Even jersey knit fabric can be sewn on an ordinary sewing machine, which now come equipped with a multitude of 'stretch' stitches. (Personally though, I find a narrow zig-zag better). Once you've had a bit of experience in garment construction, then you'll be ready to move on to using an overlocker.
Overlockers are difficult to thread!
There is a lot more to threading an overlocker than a sewing machine, yes.  But they're not 'difficult' to thread, just a bit fiddly. It's the lower looper that generally causes all the bother as it's often tucked away underneath. So it is a bit of a mystery and not easy to access.
Modern machines are more user-friendly and easier to thread than the older ones. They now have colour-coded diagrams and markings on the machine itself. So take your time, read your manual and follow the diagrams, it's not that bad. With a bit of practice, you'll be able to do it in a minute or so.  The really important thing is to make sure the lower looper thread lies over the upper looper thread once you've finished, or the machine won't be able to form a chain. The quick way is to tie on the new colours and pull them through. But what happens if a thread breaks?  There's no denying it, threading is just something you need to learn to do.
What overlocker is best for Beginners?
This advice is the same as for sewing machines. Don't make the common mistake of short-term thinking. You won't be a beginner for long so get the best quality you can afford. It's even more important with overlockers as they're not something you'll need to upgrade if you do your research at outset.
Fortunately, overlockers don't actually vary that much in their features; they all do the same basic job and you really do get what you pay for.  The cheaper ones are made from poorer quality parts and are actually quite flimsy.  Social media groups are full of posts from owners of the cheap machines (especially those from budget supermarkets) complaining about the poor quality of stitching, bent or broken loopers, or bits falling off. Other common problems are mis-timing, cracked gears, and damaged knives.  Many sewing machine engineers won't accept budget overlockers for repair as there are no spare parts available. The problem is that the user doesn't always realise it's the machine that's to blame.  As with owners of cheap sewing machines, they think it's something they've done wrong. The budget machines may be fine over light to mid-weight fabric but they can't handle thicker fabrics like fleece or french terry very well.
A decent to good-quality overlocker will cost £400-£500.  At this level, you'll get a machine that should be sturdy enough to cope with heavier fabrics/thicker layers, and be long-lasting.  Expensive features such as air-threading, or auto-tension are available but aren't necessary if you take a bit of time to understand your machine. You could invest in a lesson for an hour or two, which would teach you all about your machine and how to get the most from it.
What kind of needles should I use?
Your overlocker will come fitted with appropriate needles and the instruction manual will tell you what to use.  It will probably also be marked on the machine.  Most modern overlockers use the same universal 130/705H needles that are used in regular sewing machines.  These should work well on most types of fabric.  But you might want to switch them for ballpoint/jersey needles (130/705 H-SUK) if you are sewing mainly jersey knit fabrics or superstretch (HAx1 SP) for fabrics with a high-elastic content i.e. swimwear . And remember to change them often too.
The thread is expensive.
Yes, buying the cones of thread can represent a significant outlay. However, they are actually more economical and work out cheaper in the long run.  The loopers use a lot, and I mean A LOT of thread.  If you put a standard 100m reel of sewing thread on there, it'll be gone in minutes. Invest in a few basic colours of cones such as grey, navy, ivory and dusky pink/beige that blend with most of your projects.  Many people head straight for black and white, but these can be quite stark against other colours; softer shades will blend better.
When you're using both needles, it's the left needle that makes the seam you'll see from the outside.  As the overlocker needles don't use any more thread than a normal sewing machine, you can use a reel of all-purpose thread that closely matches your fabric.  Or here's another thread-saving tip: If you're only using your overlocker to neaten the raw edges, remove one of the needles.  Then you'll only need 3 cones (or 2 if you've put a regular reel on the needle).
Specialist overlocker thread is also slightly lighter weight than normal sewing thread to avoid bulk. But as it's polyester, it's strong enough to withstand the high operational speed of overlockers.
Overlockers are only for neatening edges.
This is not true at all.  But lots of owners only use their overlocker for neatening edges when in fact there are also a whole range of other functions of an overlocker.  Firstly, they can stitch the seam for you too so are great time-saving devices.  The average domestic sewing machine speed is 800 stitches per minute; domestic overlockers can push out 1300-1500 stitches per minute.  Also because there are two needles, it gives a strong seam. It's called a 4-thread safety stitch; the clue is the word 'safety'.  Even if you take one of the needles out, and sew with only 3-threads, the overlocker can still produce a good-quality, durable seam.
Then there is attaching elastic into a seam, adding decorative finishes and trims, and even making decorative cords and braids. Don't underestimate an overlocker!
What is the standard setting for…
This is a very common question but that's the problem with overlockers.  There is no 'standard' setting that's good for everything.  Overlockers are very sensitive to small changes in the fabric type, the number of layers, the stitch length and width. A small change to one of these variables will affect the tension. So you need to understand how to adapt the stitch and tension settings for each situation.
When you first get your overlocker, don't try to jump right in to make anything on it.  That's like driving to the next town during your first driving lesson. Instead, thread it up with 4 different colours of thread, and spend some time playing with fabric scraps in different weights.  Read through your instruction manual, trying out all the different settings.  Learn to identify what a perfect stitch should look like.  And if you don't achieve it, why not? Find out what's wrong with the tension, and how to put it right.  That's why using different thread colours helps; so you can see which one is causing the problem. Keep your samples and make a reference book. With that knowledge and confidence, then you'll be ready to dive in.
You can't seam woven fabrics with an overlocker.
This is one of the most common myths and mis-understood functions around.  It's also contributing to many owners not using their machine to its full potential. Yes you can seam garments made in woven fabric with an overlocker.  In fact you can achieve a strong and durable seam.  And you can even do this with only 1 needle (if you use the 3-thread set-up). If the seam gapes, the needle thread(s) is/are too loose. I've been making clothes on overlockers for over 30 years and will often use only an overlocker for the seams on woven garments such as blouses and dresses. Remember that woven garments are supposed to have more 'ease' built in than knit garments.  If your seam splits, then the garment is too small.
For example, an overlocker can be used almost entirely for the construction of a traditional blouse that has a revere collar and set-in cuffed sleeves.  A conventional sewing machine need only be used in areas with points to turn, where seam allowances need graded, and for sewing on buttons and making buttonholes.  Your instruction manual will describe what types of stitches are compatible with what fabric.  Or you could invest in a good book about constructing garments using an overlocker.
Sheer or lightweight fabrics, for example eveningwear, can be seamed using only 2-threads. This is a lovely lightweight seam and is appropriate for the intended wear of the garment.  Sportswear or garment areas where the seam will receive a lot of stress can be stitched with a 4-thread safety seam, or even stitched again with a sewing machine. Not all machines have a 2-thread function so check before you buy if you're intending to work with ultralight fabrics.
 I've just bought an overlocker; do I still need my sewing machine?
Overlockers are not a complete substitute for conventional sewing machines, but they are a very useful complementary tool.  You'll still need your sewing machine to sew buttonholes, topstitching, insert zips etc.
When would you just use an overlocker?
Overlockers are great for jersey knit fabrics, as they produce a flexible seam that gives with the fabric. It's possible to construct a jersey knit garment completely on an overlocker, including the hem.  Dresses and blouses can also be made primarily on an overlocker, with details such as collars created on a regular machine.
When would I not use my overlocker?
There are a few situations where you wouldn't use your overlocker.  Or at least, not immediately.
Firstly, if you hadn't tested the pattern for fit. Instead, machine tack the fabric pieces together using a long stitch on your sewing machine.  Once you've tried it on and noted any alterations, then unpick and construct on your overlocker.
You'll obtain a smoother point if you stitch darts conventionally. Then they can be moved if necessary, and are less bulky.
For skirts and trousers in heavier fabric, you'll probably want to retain a wider seam allowance so you can press the seams open. So stitch with a regular machine and neaten the raw edges with your overlocker. Or you could overlock the edges first then stitch with your sewing machine. Just don't trim anything off if you want to keep your full seam allowance, or think you may want to let out the seams later.
Also for inserting set-in sleeves, a conventional machine will give more control if you're inexperienced with an overlocker.  However, you can sew raglan sleeves easily with an overlocker.
How do I know what seam allowance to use?
If you just line up the edge of your fabric against the blade, then you will get a narrow seam allowance of between 4-7mm.  But, if you line up the stitching line with your left needle, then it'll stitch exactly along the 1.5mm line and the excess will be trimmed off.  Most machines have markings on the looper cover to show you where to place the fabric edge. If there are no seam guide lines, then pop on some masking tape.
You can't sew hems with an overlocker/How do I sew a hem with an overlocker?
You can sew a blind hem with an overlocker.  It gives a good finish to jersey knit garments such as T-shirts, sweatshirts, and even for leggings and sleeve cuffs.  And not only will your overlocker sew the hem, but it'll trim and finish the raw edge too. Alternatively, you can attach a separate band around the bottom of a garment (just like a narrow cuff in fact), or create a mock band by folding up a hem then flipping it back to the right side.
What is a good make of overlocker?
One of the best 'makes' around in my opinion is Juki.  They have been manufacturing some of the best industrial sewing machines and overlockers for 70 years.  They are now back in the domestic market, and using their industrial technology in some of the most robust and easiest to use machines available. Babylock also have a superb reputation for air-threading models but they are very pricey. As a side note, there are only 4 factories in the world who make overlockers: Juki and Babylock each have their own dedicated factory. All other overlockers are made in the other two factories.  Other models I'd recommend are the Janome 6234XL, which is the lowest-priced Janome that is of decent (i.e long-lasting) quality.  Their budget-end offering is the 8002, which is tricky to thread and feels flimsy by comparison. A robust budget model is the Britannia 4DR, and at under £300 represents good value for money. Otherwise I've tested the Elna 664 pro and was impressed (but opted for the Juki 644D instead).
A Beginners Guide to Overlockers – Summary
I hope that's given you a better idea about what overlockers are and how you can use one. They may appear scary at first, but they are truly wonderful machines and I would not be without any of mine (I have 4!) However, they are quite different to sewing machines so the quickest way to learn about them is to get some lessons. Artisan Stitch runs 1-day overlocker courses in their Edinburgh Studio, or online overlocker tutorials. This are fully-interactive in real time with a small number of students so you can try out the techniques, and can ask questions.
And if you have any other questions, then please drop me a note at jen@artisanstitch.co.uk.
Useful links:
If you're UK-based and interested in buying an overlocker, then Pembertons are a specialist supplier of many quality brands and will find you one that's perfect for your needs and budget.
If your overlocker is giving you a tension headache, then my blog on overlocker tension may help.