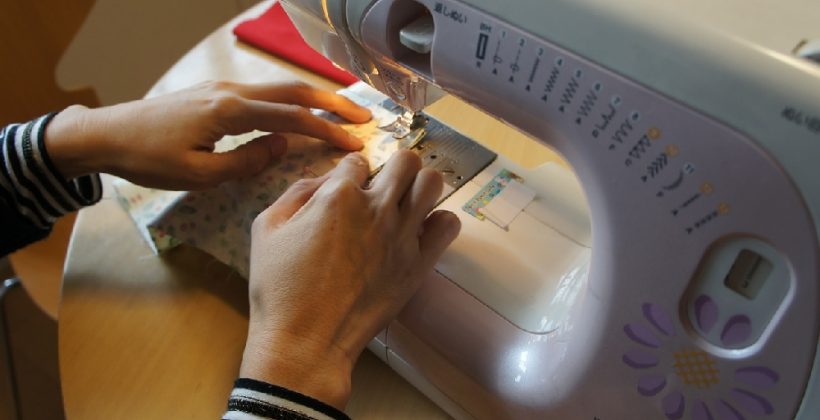 Sewing Machine Features
The range of sewing machines available is huge and it can be incredibly confusing trying to choose one, whether for yourself or someone else.
If you've not yet done any sewing, then you'll probably not know anything about machines.  You'll likely choose the most basic 'starter' machine in the shop because you're 'just a beginner'. And after all, they all do the same thing. Right?
Well no actually.  If they were all the same, no-one would buy anything other than the cheapest one. The old idiom 'You get what you pay for' applies to sewing machines too. No you may not need 100 decorative stitches, or embroidery programmes; at least not initially.  Those machines are quite specialist, and if your sewing journey takes you in that direction, then you can grade up later.  But you should be looking for a reasonable quality machine that will be easy and enjoyable to use. That is one that will enable your skills to develop, not one that will hamper any progress and put you off sewing for good. The advice is 'buy a machine for the sewist you aspire to be'.
Sewing Machine Features – for a Beginner
Remember, you won't be a beginner for very long. Even after a couple of lessons, you'll know how to change stitch length for specific tasks on various fabrics, and realising that you need to tweak the settings to get the best result. The category of machines I refer to as 'starter' are very limited in the stitch choices they offer, and I see many fairly new 'Beginners' frustrated with the limitations of their machine once they see other machines that can do more.
So what features should you look for in a sewing machine?
As a sewist of over 45 years, and a sewing tutor for 8 years, here's my recommendation of what sewing machine features to look for.
Firstly, you'll need a good quality motor and gears.  It's these parts that take the strain of sewing thicker fabrics and multiple layers.  Starter machines have lots of plastic parts and many are just not up to sewing anything more than 2 or 3 layers of lightweight craft fabrics.  A good quality, robust construction will offer you versatility and longevity.  By that I mean it will enable you to sew everything from small craft projects, soft furnishings, heavy and lightweight fabrics equally well.  The problem with this is that you can't tell what quality the machine is just by looking at it and the output power of the motor isn't often given in the promotional literature. As a general indication 'less is more'.  By that I mean a machine that costs the same as another but does much less, will generally be much better-build quality.
A must-have feature in my opinion would be a foot control that plugs in to the machine independently from the power cable.  Why is that important?  That means it's electronic, which makes the foot control more sensitive to the foot pressure you exert. This gives far more control and a smoother sewing experience. Machines that have the foot pedal and power cable combined don't have this sensitivity and are much more difficult to control the speed.
How do you find a good quality machine?
Firstly, don't buy a machine online or from a craft shop. And please, please, please avoid those 'mini' or 'midi' machines – even for children.  Please go to a specialist sewing machine shop.  You'll be able to test out some machines and speak to a knowledgeable person about your requirements.  They'll also stock brands of machines you've possibly not heard of.  Husqvarna Viking, Pfaff, Juki, Bernina only sell through authorised stockists, so you won't get these in the hobby shop. And some of these brands don't advertise in the sewing magazines you'll see in the newsagents either. Don't fear about not knowing about them; these brands are some of the first manufacturers of sewing machines back in the 1860's so do your research and you'll get a better machine. You won't necessarily pay any more.  Janome and Brother raised their prices twice in 2020, so their machines have become quite expensive compared to the equivalent quality from elsewhere.  You'll probably know the name 'Singer' but the Singer company folded in the late 1970's. The name was more recently bought up by a consortium who have been licensing the name  However, these machines are a poor comparison to their glory days and aren't worthy of the reputation. For great value and robust quality, check out Alfa and Silver brands. Some of their model numbers are listed below.
Quality, Longevity, and Reliability
You may read lots of reviews from new sewists about them being delighted with their starter machines. And yes they probably are if it's their first machine and they haven't compared it to anything else.  But it's very likely they did what most new sewists do.  They choose the most basic machine in the shop because they didn't know anything about them and didn't think they'd use anything 'fancy'.  Therefore they're hardly the best people to take advice from.  A sewing machine is quite personal; everybody needs different things from their machine. But you'll only be able to tell what machines are best for you if you test out a few against each other, and you can only do that in a specialist shop.  And I always take reviews in the sewing publications with a pinch of salt.  You only need to look at the adverts on every 2nd page to know where the magazine derives most of its advertising revenue from.  Can you really trust their reviews to be completely impartial? So who can you trust? Well, a specialist dealer as they don't sell anything that's troublesome, and will constantly come back for repair.  Even worse, many of these cheap machines cant be repaired as the manufacturers don't make spare parts.  It's cheaper to buy a new machine than to even have it serviced.  That's hardly good for the planet, is it?  A specialist dealer will employ knowledgeable and enthusiastic staff that love sewing and they want you to enjoy it as much as they do so it's in their interest to keep you as a loyal customer.
Here's why you shouldn't choose a basic 'starter' machine
They have lots of plastic parts. Sewing machines need to be finely engineered to work well.  The old Singer machines were solid metal through and through.  This made them very heavy but they gave a perfect quality stitch every time.  They were expensive to buy (the equivalent to buying a small family car now) and usually had to be paid up over several years but they were heirlooms and could be handed down through the generations. Plastic parts mean the machine is lighter but that's not a good thing.  Plastic flexes and this causes extra vibrations, uneven stitching and irregular tension.  It's also not robust and it's common for plastic gears to break – especially if you're trying to sew multiple layers.  If the machine gets a jolt, that can knock the timing off, which is a repair that will cost more than the purchase price of the machine.
Motor power
The low priced machines have low power motors.  This may be fine for small crafts (but even then you may be sewing up to 8 layers of craft cotton) but it restricts their 'penetration power'. Many won't enable you to take up a pair of jeans or to sew furnishing fabric.  The machine will be 'stutter-y' and 'whine-y'.  I also find the foot pedal is less controllable, and doesn't enable you to control the machine's speed very well.  You usually have to floor it to get the machine to move, then it takes off. Ideally, you're looking for a machine with at least 70W output power.
Difficult to use
The low-priced machines aimed at beginner sewers are, ironically, more difficult to use.  The poor quality parts mean they are prone to jamming.  The vibrations cause the tension to be knocked off easily causing loopy stitching.  Many beginners think it's their fault but actually it's the machine. The lack of features mean you're not going to learn how to deal with different types of fabric, or learn techniques.  They feed fabric though unevenly, causing wrinkling and puckering.
But I can grade up?
Yes you can.  But in this age of climate crisis, we shouldn't be thinking of goods as being 'temporary' or disposable.  Please think longer term and choose a machine that will grow with your skills and ambitions, and enable you to develop.  Not one that will constantly be a source of frustration and inhibit your sewing. Many people won't expect their sewing machine to last more than 2 or 3 years but a good sewing machine will last at least 30 years. That doesn't mean you shouldn't buy another machine if your sewing takes you in another direction and you need something more specialist (for example a long-arm machine for large quilts) but at outset, you should be looking for something that will be versatile across a broad spectrum of tasks.
The Environmental factor
We shouldn't have such low expectations of manufactured goods. We need to all put pressure on manufacturers to give us better quality goods that last longer and are worth repairing.  If you don't have a large budget when you're starting out, look for an older 2nd hand machine.  It'll be robust construction and will likely have many more years (or decades) of useful life left in it.  It will see you through until you know what your longer-term sewing requirements will be then you can invest in a long-term or even 'forever' machine.
So what sewing machine features should I look for?
Here's my list of sewing machine features that I'd consider 'essential'.
Stitch types
Unless you know you'll want to embroider lots of decorative patterns on your projects, you won't need lots of 'fancy' stitches.  For dressmaking, you'll need straight stitch, zig-zag, blind-hem and a buttonhole  (read on for my full explanation of why I would recommend having a fully-automatic buttonhole as opposed to a 4-step buttonhole).
Adjustable stitch length
This is one of the most important features to have on your machine.  The usual range of stitch lengths is 0-4mm which cover all of your sewing tasks and fabric types.  Computerised machines will often give longer stitch lengths, but 4mm is about as long as you'll need and is perfect for machine tacking (basting).  The low-cost starter machines will have one dial that gives you a perhaps 3 or 4 pre-set stitch lengths but not usually as long as 4mm, making it difficult to remove if you want to tack pieces together temporarily.
Adjustable stitch width
Again for best results when zig-zagging or using any of the stitches employing width, it's useful to have options, so you can find the best possible setting.  The standard range will be 0-5mm. Starter machines may offer only 2 or 3 zig-zag stitches but none with any potential to change length or width. I find it impossible to achieve neat finishing of raw edges on these machines.
Needle threader
This is a tiny hook device that will thread your needle for you.  It's available on the mainstream range of machines, (Usually anything from about £150) but not on the lowest-priced ones.  It takes seconds to thread a needle using this handy gadget so it's definitely a 'must-have' for me.
Fully-automatic buttonhole
Sewing machines come in two main variants now; a 4-step buttonhole, or a fully-automatic (or 1-step) buttonhole.  A fully-automatic buttonhole means that once you set the machine, it will sew the entire buttonhole for you, from beginning to end without any further interaction from you.  It gives perfectly even-sized, identical buttonholes every time and it takes seconds.  If you have a 4-step buttonhole machine, you need to measure the required length of the buttonhole yourself, and re-set the machine for each stage.  It takes longer and the results can be variable, depending how accurate your measurements and control of the machine is.  In my experience, buttonholes are something that many sewists are wary of and avoid. So anything that makes the process quicker, easier and yields a neater result is fine in my book.
Needle positions
A useful facility is the ability to move the needle position, usually to the left.  This is required when inserting zips, and any machine that doesn't have multiple needle positions will make this task (even) more difficult. Worse still, some machines have a right needle position only, meaning you have to perform this procedure 'back-to-front'.
Which machines have these features?
Husqvarna H-class E20 £229
Husqvarna Huskystar E20NT £239
Husqvarna Emerald 116 and 118 £339 and £369 respectively
Janome J3-24 £279
Janome CXL301 (SMD3000) £199
Brother XR27NT £189 or XR37NT £209
Elna 240EX £229
Silver 1040 £225
Alfa Style UP20 or UP 30, £179 & £189 respectively
Alfa Practik 9 £219
Pfaff Smarter 160S £239
Machines with adjustable stitch length and width, needle threader but a 4-step buttonhole
Husqvarna H-class E10  £ 189
Silver 301, 302 & 303 RRP £139, £159 & £179 respectively
Elna 220EX £199
Janome J3-18 & J3-20  £199 & £239 respectively
Other considerations
Number of included accessories (presser feet)
For most basic dressmaking functions, you'll need the standard foot, a zip foot, a buttonhole foot, and a blind hem foot.  An edging or overcasting foot is also extremely useful for neatening the fabric raw edges.  Some of the very cheap starter machines don't come with any of these accessories, and you'll end up shelling out much more money for them; money which could have been spent on a higher-spec machine.
Adjustable Presser Foot pressure
Not essential but definitely desirable, and this will be available at the lower end of the 'mid-range' machines i.e. probably from £250 upwards.  This enables the machine to cope with a variety of thicknesses or multiple layers of fabric.  Uneven feeding is a scourge of cheap machines, causing what I call 'top-slide' (where the top fabric ends up longer than the bottom fabric).  Adjustable pressure allows more even feeding of multiple layers for quilting, or better grip of very fine or slippery fabrics. Many people use a walking foot to help the machine feed layers evenly.  But a decent-quality walking foot will cost £50 and I think you'd be far better investing that money in a better machine.
Machines that don't have the recommended features:
Brother:  LS14, LS14s, L14S, LX17, LX25
HC19S – Made by Brother for Hobbycrafts
Janome: 2200XT,
John Lewis (Made by Janome): JL110 – only limited width options, no needle threader, and a very non-sensitive foot pedal which makes it difficult to control the speed.
Singer:  Confidence, Promise, Brilliance, Tradition, Fashion Mate
Useful links:
Pembertons sewing machine centre
Alfa Practik 9 sewing machine review
Which sewing machine should I buy?