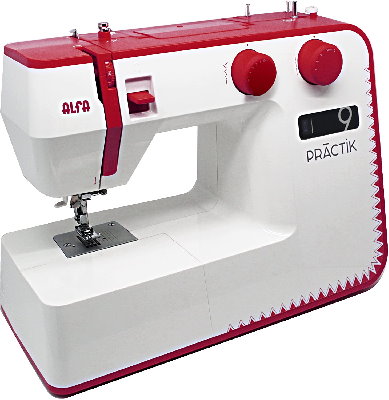 Alfa Practik 9 sewing machine review
You've probably not heard of Alfa sewing machines.  But you will have heard of Smith & Wesson revolvers.  That's what the Alfa Hogar company used to make before they turned their hand to more peaceful and creative tools – thankfully.
The Alfa company is now 100 years old. In 1945, after the second world war, they switched their focus to the market for sewing machines.  So they are a well-established brand, and there are plenty old ones still around if you check e-bay.  They were the first manufacturer to be based in Spain, and the company are still based there, although th machines are made in the Far East.
The Alfa Practik 9 has a quirky, and very distinctive look.  It's unashamedly girly-pink.  Many will be drawn to its clean, fresh and modern looks. You'd certainly pick it out in a crowd.
My mission:
Pembertons, my local dealer and supplier of my studio machines, asked me to review this machine. I have a frequent flow of new students needing machines and I'm always interested in any models to recommend to them. Andrew knows that I don't mince my words and would give my honest opinion.
Priced at just £219, I was dubious that it would be up to much.  After all you don't get a punchy motor for under £300, do you?  I expected it to be another one of those 'starter' machines that are very pretty but actually pretty weedy. So what do you get for that money?
Features of the Alfa Practik 9
34 stitches – the chosen setting is shown in an illuminated window
One-step/fully-automatic buttonhole
Needle threader
Independent stitch length and width controls. Length from 0-4mm, width from 0 – 5mm, left needle position
Soft-touch controls
LED light
Removable accessories box and free-arm
Flip-up stitch 'menu'
Weight: 7kg
Power output: 60W
Accessories:
Extension table –sturdy and gives an additional sewing area of 40.5cm x 25.5cm.
Standard sewing foot
Buttonhole foot
Button foot
Darning plate
Zip foot
Edge/Quilting guide
Quick unpick/cleaning brush
Oil
The testing process
So how do you go about testing a sewing machine?  Well I look for the following:
Easy and clear controls
Separate stitch length and width
Needle threader
Fully automatic buttonhole
Strong motor to cope with heavy fabrics and multiple layers
Good range of accessories for most common sewing tasks
The first job was to wind a bobbin and thread up.  The machine is clearly marked with instructions for both these functions so it's very easy to follow, even if it's the first time you've used a machine.
The needle threader is precise and found the needle eye perfectly every time. On some machines I've tested, they are quite flimsy, are easily bent then don't line up correctly.
A quality machine gives regular and smooth stitching of uniform size and tension.  I tried straight stitch and zig-zag first, then a selection of those lovely stitches. There's a good mix of utility, stretch and decorative stitches to choose from. The decorative stitches sat plump and even on of top of the fabric. There was no puckering often visible in some 'budget' machines.  The motor feels powerful and has no 'whine-i-ness'.  It feeds the fabric evenly and smoothly. Although this isn't a heavy machine, it's sturdy enough that it doesn't vibrate.
The buttonhole stitched smoothly and evenly too.  It's very professional-looking. To sew a button on, fit the darning plate over the feed dogs, and attach the horseshoe-shaped button foot. So it's easy to sew buttons on perfectly too.
Whilst the darning plate was on, I thought I'd try the free-motion capability.  This requires the motor to be run at high speeds, and the Practik 9 coped easily.  There was no juddering or vibration, which can affect the quality of the stitching.  It was really fun in fact.
Versatility
All my earlier tests were conducted on two layers of calico, but the true measure of any machine is how it handles the extremes.  Can it manage delicate fabrics such as organza, polyester satin and jersey knit, and also cope with heavy duty tasks?  Many budget-end machines (sub £300) are fine on lightweight craft cotton, but not more than 3 or 4 layers of it. On the other hand, many machines marketed as 'heavy-duty' sound like a bag of rusty spanners and will chew up jersey knit or delicates.  A truly versatile machine doesn't often come at a budget price.
The 'difficult fabrics' test
Polyester organza is a difficult fabric to work with. It's slippery, frays easily, and usually wrinkles or puckers.  However, I obtained a beautiful 5mm French seam on transparent organza, with no rippling or puckering of the fabric.  I chose to use a 2mm stitch length and they are beautifully uniform in size.
The 'slippery fabrics' challenge:  polyester satin is usually a nightmare to sew. It slides around under the foot, even after pinning.  There's a tendency for it to get a bit chewed. However, I didn't experience any slipping and the seam was flat and even, without wrinkles.
The stretch test:  I choose a striped jersey-knit cotton and used the triple stretch seam.  Many other machines I've tried this with have caused rippled and stretched seams.  Perhaps that explains the recent popularly of walking feet for sewing jersey knit. But I didn't have a walking foot, and still achieved a perfectly flat seam, which is strong and elastic.  The narrow 3mm stripes on the fabric still match perfectly.  Often you'd experience displacement as the top layer is pushed forward and the bottom layer pulled backwards but there was none of this uneven-ness here.
I fitted a twin-needle and hemmed the sample too. It gave a perfectly-even hem with no skipped stitches, stretching or distortion.
The 'heavy-duty' challenge
I'd saved the best 'til last. There are two points to test here:  Firstly, will thick layers fit under the foot, then secondly, has the motor enough 'oomph' to penetrate through them? Most machines at this price level will struggle with multiple layers of ordinary craft cotton, or as little as two layers of upholstery-weight fabric.  However, the two-step presser foot lifter on the Alfa enables surprisingly thick layers to be inserted.  I managed to get 10 layers of cotton canvas upholstery fabric under the foot (the bundle measured 14mm) and the Practik effortlessly glided its way through without stuttering.
My summary of the Alfa Practik 9
I was initially put-off by the Alfa's looks, which I thought a bit 'gimmicky'.  This made me sceptical of its abilities.  However it's passed every test with flying colours; and that colour is fuschia! It's definitely won me over.
What I love:
The quirky looks (yes they did grow on me), and the soft-touch controls.
The accuracy of the needle-threader – it hits the spot every time.
The additional presser foot lift is high, giving over 1cm of space.
Spacious working area, even without the extension table
It's quick and easy to change the stitch type, length or width
illuminated display panel shows what setting you've selected.
LED light illuminates the working area well but isn't dazzling
This would be a great machine for Beginners as it's so easy to use, and has a great range of features to give longevity.  It will enable them to expand their skills and not outgrow the machine quickly. It's great for dressmaking as it copes well with all fabric types, and has a 1-step buttonhole, and a range for stretch stitches. It's even rugged enough for those occasional soft furnishing jobs and will happily run up some new curtains, cushions, or even a few chair covers. The high presser foot lift, extension table and large range of decorative stitches yield it ideal for quilting and general craft work too.  So it's a great all-rounder and a long-term option. It comes with a 3-year warranty.
The dealer loaned me the machine for the test but if he wants it back, he's going to have to arm-wrestle me for it!
Useful links:
Pembertons sewing machine centre
Husqvarna Emerald 118 sewing machine review