Best Sewing Machine?
Husqvarna Emerald 118 Sewing Machine Review
I set up my teaching studio in 2015 so I had to find the best sewing machine. I needed something that was easy-to-use,  versatile, robust, and great value.  My local specialist dealer Andrew Pemberton recommended the Husqvarna Viking Emerald 118.  Prior to that, I was aware of Husqvarna as a high-quality brand but I hadn't used them since my school days.  So I was happy to go along to test it against some of its closest rivals in the same price bracket.
I tested the Janome CXL301, and the favourite of the Great British Sewing Bee, the Janome 525. I also tested a Singer and a Brother. The best sewing machine I tested overall was the Emerald.  I chose them for their ease of use, pleasure to use, and durability.  My previous high-ranking favourite brands, Pfaff and Bernina, make top-class quality machines too but are a little on the pricey side by comparison.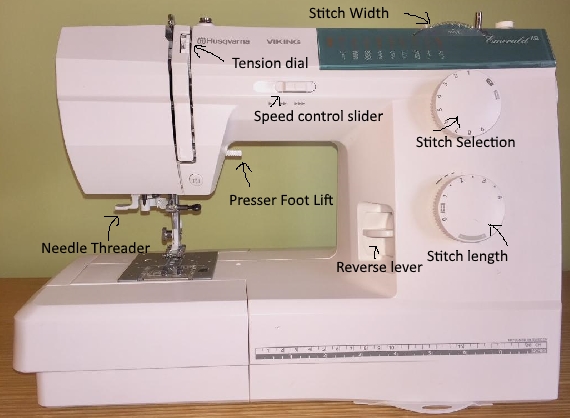 About Husqvarna
Husqvarna are a little-known manufacturer of sewing machines. In fact they're better known for ride-on lawnmowers, chain saws and power tools for the construction-industry.  But that tells you the quality of their engineering is first class. The company was in fact born in Huskvarna, Sweden in 1689 as a royal arms factory. However, they have been making sewing machines since 1872; that's almost as long as Singer. The first model was given the name "Nordsjernan" (The Northern Star). And they have been pioneers in this field, being the first to introduce innovations like the free-arm, and a jam-free 'no oil' rotary mechanism and are market-leaders in the field of computerised sewing machines.
But they control sales of their sewing machines closely; only registered specialist sewing machine dealers can stock them.  This ensures that buyers receive the very best of advice and care.
Features of the Husqvarna Emerald 118 sewing machine
Weight and stability
With it's metal internal frame and metal innards, the Emerald weighs in at 8kg (around 16lbs). That's a decent weight but not too heavy to carry to classes if you want to. Be wary of machines marketed as 'lightweight'. That usually means they have a flimsy plastic case, no metal internal frame, and the motors and gears are choc-full of plastic too.  Sewing machines are sophisticated pieces of engineering and they require precise mechanisms to sew well. Think of a Swiss watch. Plastic parts will flex and vibrate when in use.  This will affect stitch quality and ultimately the longevity of the machine. Sewing machines need a certain amount of weight for stability and to provide a high-quality, evenness of stitch.
Motor Quality
When you're buying a sewing machine, it's what under the bonnet that matters. But few novices would even know to consider this. The Emerald's powerful 75W motor means that the machine is smooth to use and the foot pedal is responsive. The motor is quiet too. There's no whining or rattling which makes it an absolute joy to use. It makes easy work of multiple fabric layers. I've sewn through 10-12 layers of denim easily, without even using a special jeans needle. Many lesser machines would struggle to sew less than half that much.  This little baby purrs!
Stitch Selection
The Emerald has 19 stitch options, including a fully-automatic buttonhole and 4 decorative stitches.  Stitches are selected by turning a clearly marked dial so it's intuitive to use. In addition, there are independent stitch length and width controls. Stitch lengths of 0-4mm, and widths of 0-5mm  enable sewing all weights of fabrics. Important for dressmaking, soft furnishing and most types of crafts.  Very few machines in the 'starter' range have this function. Most have just one dial to select a small range of stitches but the quality will be compromised. Easy to learn on but as your experience grows, you'll find this limiting and frustrating. Chances are you'll grow out of a 'starter' machine very quickly. The Emerald will enable you to develop your sewing skills and will grow with you. Only then will you appreciate just what a good all-rounder this machine is.
Variable Needle Positions
The stitch width setting also enables you to move the needle position on straight stitch anywhere within that 5mm range for greater flexibility. This is useful when sewing zips and also to achieve a perfect topstitch in exactly the place you want it.
Speed Control Slider
Good machine skills come primarily from controlling the machine with the foot pedal. But if that powerful motor, which can achieve speeds of up to 1000 stitches per minute scares you, then the Emerald also has a speed limiter control.  This handy slider lets you control the speed, even when pressing hard on the foot control. So this machine will never run away from you. Some machines aimed at the beginner market aren't easy to use as the foot pedal lacks sensitivity and you have to press hard to get it to go. Then off course it rattles away at top speed. If you've experienced that, then you'll appreciate the Emerald's smooth and responsive approach. Press a little, get a little, press more to go faster. Like a finely-tuned sports car. This actually makes the speed control redundant but it's there as a safety net if you want it.
Needle up/Needle Down
When you stop sewing, the needle will always stop in the 'up' position. This is handy for taking your work out the machine quickly.  But for intricate corners, there's a 'needle down' button. When you use this button, the needle will always stop in the 'down' position, letting you re-position or turn the work without losing your place.
Automatic Needle-Threader
An automatic needle-threader lets you thread the needle quickly and easily without screwing up your eyes. Or having to suck on the end of the thread. Just push down on the lever and a tiny hook will reach through the eye of the needle. Just lay in the thread across the hook, and your needle will be threaded. This is a must-have feature on any sewing machine in my book.
Thread-Cutter
The side-mounted thread-cutter is a similarly invaluable time-saver. Just draw your threads from back to front when removing your work from the machine.  The thread will be cut. But don't forget to trim them right back to fabric level so they don't get tangled in your next seam.
Presser-Foot Pressure Control
The Presser foot pressure control does what it says on the tin.  It controls the downwards pressure on the foot. Why is this important? If you're sewing thin or slippy fabrics, you'll need more pressure so the feed dogs get a good grip. When sewing thick fabrics or lots of layers (as in Quilting),  you can lessen the pressure so the layers aren't pushed apart. The settings range from 0-3. Although the instruction manual recommends a general setting of 3 for most medium fabrics,  I have mine set to '2' in the main.  I find that prevents the common problem of slippage. Or when the top layer is pushed forward and you end up with excess fabric on the top at the end of your seam.
Top Loading Bobbin
Top load 'drop-in' bobbin. The bobbin is easy to insert and the clear cover lets you see when it's getting empty. The full rotary hook has an anti-jam mechanism. Under the bobbin case there is an oil well so this machine never needs oiling.
Twin-needle
The Emerald 118 can be fitted with a twin needle which I use a lot for sewing hems on jersey knit fabric. It gives a professional finish.
Free-Motion or Darning Function
For creative Embroidery fans, the feed dogs can be lowered. This function is crucial to me as I do lots of free-motion embroidery.  There's a lever at the back of the machine to flick and it's done. It's equally as quick to raise them again.
Presser Foot lift
A little known function of some machines is that a secondary manual presser foot lift gives extra height. When you're trying to insert an embroidery hoop under the foot, sometimes it's a tight squeeze. Just push up on the presser foot lever and this will raise the foot higher so you can slip the ring under. It's also handy to manage thick and bulky layers.
Free-Arm
You can remove the extension bed for free-arm operation.  This feature is available on almost all sewing machines now but some are not so easy to remove and replace. The Emerald's extension table slides off and on again easily. It's also robust so unlike some, doesn't feel like it would break.  The free-arm allows small areas such as sleeves and necklines to be sewn easily.
Hard Protective case
The Emerald has a hard protective cover with a moulded pocket. This is unusual in machines at this price range as many only have soft covers. The hard case protects against dirt and knocks either when the machine is being stored or transported. The pocket takes the power cable, foot control and the instruction manual.
Accessories
The Husqvarna Viking Emerald 118 comes with an impressive selection of sturdy accessories.
There are 8 presser feet included*, listed below(and see* later for a special offer from Pembertons).  That's about 3 or 4 more than you'd get with an equivalent-priced Janome or Brother machine. They are either all-metal,  or metal with strong clear plastic sections. where good visibility is important. There is a snap-on system for quick and easy changing.  There's a foot for every common sewing function, but plenty of additional feet are available for specialist tasks. Therefore this machine will grow with your sewing skills and aspirations.
Utility Foot A
For standard straight stitch, zig-zag and utility stitch sewing. I love this foot as it has lots of notches and edges which act as guides for your seams and topstitching. The side edge of the foot gives 7mm, the inner toe gives a 5mm edge, and the inner notch gives a fine 2mm guide for edgestitching. If you combine this with the facility to move the needle to the left, then you can achieve any width of stitched line you desire. No other machine I've seen comes with such a handy standard presser foot.
Utility Foot B
Foot B looks quite similar to A but the underside has a trough cut in it. This enables the foot to sit over the stitches you've just done, instead of flattening them against the fabric. So it's better for the decorative stitches.
Buttonhole C
This is for sewing a semi-automatic buttonhole for buttons over 2.5cm (1")
Blind Hem D
The little red wheel on this foot enables you to change the position of the foot for Blind hemming, thus you can sew a perfect invisible hem on woven or jersey knit fabric.  And if you don't know how to sew a blind hem, the manual explains it well.
Zip foot E
A zip foot has channels cut into the sides so your can sew to each side, rather than through the middle. This allows you to sew in a zip and get close to the zip teeth, without the foot sitting on them.
Non-stick glide foot H
This is also known as a 'teflon' foot. It has a non-stick surface for sewing oilcloth, PVC, faux leathers and other difficult surfaces.
Edging foot J
My next-favourite foot after 'A'.  This clever little device has a metal pin that prevents the thread from pulling on the fabric edge whilst neatening raw edges with zig-zag. It therefore gives a straight neat fabric edge instead of that puckered, scalloped look.
Automatic buttonhole foot R
Insert the button into the slider and this clever device will measure the length of the button hole required. The machine will then stitch the buttonhole in one operation. The foot will accept buttons up to 2.5cm in diameter (1″). For larger buttons, use foot 'C' and the semi-automatic buttonhole process described in the manual.
Edge/quilting guide
Slip this bar into the plastic ankle to sew parallel rows of stitching or wide seam allowances
2nd vertical spool pin
Insert into the top of the machine to use thread reels vertically. This also allows you to use two reels at once for bold topstitching, or colour-blend effects in embroidery.
Best Sewing Machine for …
Best sewing machine for beginners – the machine had to be easy to use and robust as I teach lots of Beginners sewing classes. The motor had to be smooth and responsive so novices feel confident using it and learn good foot control. It's not by accident that the Emerald has become a favourite machine in schools, colleges and other educational establishments.
Best sewing machine for dressmaking – the range of presser feet including the zip foot and two buttonhole feet makes this the best dressmakers choice. It can handle every fabric from fine georgette to heavy-weight denim and wool. The variety of stitches it can achieve give a professional result without puckers.
Best heavy-duty sewing machine – the robust motor will blast through thick layers of denim, upholstery fabrics and even leather easily.
Best sewing machine  – for 'difficult' fabrics. Many machines struggle with those fabrics that have become labelled as 'difficult'. This can include jersey knits, slippery polyesters,  satin, organza, chiffon and georgette. But not the Emerald. It copes easily with all types of materials, and comes complete with specialist feet to make the job easier  – if you even need to use them. It's for this reason that the costume team at 'Strictly Come Dancing' use Emeralds to make all those fantastic and exotic costumes.
Best sewing machine for children – the sensitive foot control is easy for children to learn to use. Having the speed control helps too. The dials are not too fiddly for small hands.
Best sewing machine for creative embroidery – the strong motor can run smoothly at high speed for long periods of time. The feed dogs can be dropped which is essential for free-motion embroidery.
Best Value Sewing Machine
The Emerald 118 is currently £349 from registered sewing machine retailers. (If you see it being sold online for less, then the retailer is breaking their contract with Husqvarna and could possibly have their warranty agreements revoked). That's quite a bit more than most beginners spend on their first sewing machine. But don't make the common mistake of thinking short term. You won't be a beginner for very long so you'll need a machine that will grow with you, not one that you'll find restrictive. Hobby shops sell a large range of 'starter' machines,  priced between £70-£200 but these will last you perhaps 3-5 years at the most. If the machine doesn't give up by then, you'll definitely have grown out of it and become frustrated by its lack of versatility and underpowered 'whine-y' motor.
So if the sewing bug has bitten, then do yourself a favour and invest in quality tools. Your sewing will thank you for it. Unless you graduate to programmable embroidery machines, the Emerald will be the only machine you will ever need for general purpose sewing. This machine will reward you with at least 30 years of faithful service if you look after it.
In summary
If you're wondering which is the best sewing machine to buy, then the Husqvarna Viking Emerald 118 is a good-all rounder.  The controls are easy to understand and easy to change.  It's one of the most intuitive machines I've ever used. In my opinion, it's the best sewing machine for Beginners, the best sewing machine for children and the best sewing machine for professionals. Berninas used to be the machine of choice in schools and colleges as they were solid and strong machines, and could stand the harsh treatment they had to suffer there. But Bernina aren't what they used to be, and they are more expensive than many equivalent models but no longer deserve their premium price tag. Go into many educational establishments now and you're  likely to see Emerald 118's.
Other sewing machines to consider
The 118 has a couple of siblings, the 116 or the 122. The 116 has all the same stitch functions and the same generous range of presser feet. But for around £30 less, you get a less-powerful motor, and miss out on the needle up/down function and the speed control. For an extra £30 over the 118 price, the 122 offers extra decorative stitches, and 3 extra feet (1/4″ Quilting foot, a transparent embroidery foot, and a gathering foot).
Other cousins in the Husqvarna family which are suitable sewing machines for beginners or for children are the Husqvarna E10 at around £100, or the E20 at around £250.
And since then…
That was back in early 2015. Since then, my Emeralds have helped hundreds of students learn to sew.  They are patient, dignified and forgiving and I think I love them even more now.  The students love them too, and many have bought one for themselves, either as a first machine, or as an upgrade from their starter models. (May 2020)
*Exclusive Offer for Artisan Stitch clients and community members – current May 2020)*
Because so many of my students buy an Emerald 118 for themselves after using mine in the studio. I've negotiated a special deal for them when they buy one from Pembertons. Andrew will throw in over £80 worth of extra goodies.  That includes a walking foot (costing £50 if bought separately), a concealed-zip foot, and a free-motion embroidery foot (also known as a darning foot). Plus there'll be some extra bobbins. He's also kindly extended this offer to anyone contacting him as a result of reading this post.  Just mention Artisan Stitch!  There's free next-day delivery (if in stock) anywhere in the UK. And if this isn't the best machine for you, he'll find you one that is – even if it's much cheaper.
Links:
Video demonstration of Emerald 118 features and benefits.
The Emerald's versatility across a range of fabrics (polycotton, polyester voile, synthetic knit and multiple layers of denim)
How to sew a fully-automatic buttonhole
Pembertons Sewing Machine Centre
Testimonials:
Here are some quotes from satisfied users of the Emerald 118:
Hi Jen, I purchased the Husqvarna sewing machine you recommended. It's a lovely machine and even threads itself. Thank you for suggesting it to me.  Jacqueline M.