Singer Tradition 2282 Sewing Machine Review
The Singer Tradition 2282 sewing machine is often available from Lidl for £79.99. It may be a suitable option if you're just
learning to sew
and are looking for a machine.
Singer have never released this machine for sale in the UK directly, but it's available through Lidl about twice a year. It's unlikely that the manufacturer's guarantee will therefore be valid here but it comes with a 3-year guarantee from Lidl. It also comes wired and fused to UK standards. The closest UK equivalent is the Singer Tradition 2273 which is available from Amazon at around twice the price. I've also found the 2282 model on sale through an online site for £160.
Internal Metal Chassis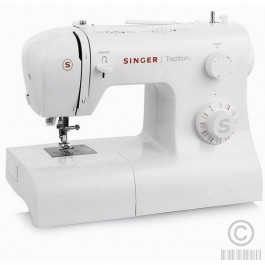 Singer Tradition 2282 Sewing Machine
The 2282 is classed as a lightweight entry model.  You'd think lightweight would be a benefit and it is if you're taking it to craft classes. However 'lightweight' usually means no internal chassis and lots of plastic parts. The consequence is lots of vibration and poor stitch quality.  The 2282 has an internal metal frame, and weighs 7kg so it has enough stability and rigidity to produce decent stitch quality. Normally I'd advise anyone to avoid, avoid, avoid anything in this price bracket however, this machine punches well above it's weight!
Stitch Options
It offers 32 stitch options, and has adjustable stitch length and width. To me, this is a must-have feature and is not often available in this class. Multiple needle positions make inserting zips easy.  These are selected by turning the stitch width dial which causes the needle to swing to the left. There's also a pull-down needle-threader. A useful tool if you've not tried one before. The utility stitches include straight, zig-zag, tricot, blind hem, a variety of stretch stitches, overlock and rolled hem. The 2282 also offers a small range of decorative stitches such as a pretty scallop and a herringbone.
Fully Automatic Buttonhole
Other features include a one-step fully automatic buttonhole. If this sounds like gobbledy-gook to you at the moment, believe me it's an advantage over a four-step semi-automatic buttonhole.  In this situation, you have to measure the buttonhole size manually, and select the appropriate control. With a fully-automatic model, you simply pop the button into the specially-shaped buttonhole foot, and the machine will stitch the buttonhole to the exact length necessary. It will also oblige by sewing on the button for you too. Easy if you attach the special horseshoe-shaped foot which is also included. Genius!  It will cope with light to medium-weight fabrics. If you'd like to learn how to insert a zip, then why not consider one of my Beginners sewing classes?
Bobbin Style
The 2282 has a front-loading bobbin which are much loved by those who practice free-motion embroidery. But, unfortunately, you aren't able to lower the feed dogs. Instead, it is supplied with a darning plate to cover them. However, free-motion embroidery requires a strong motor. I'm not sure that this machine would cope with running at the high speed and long duration required. If you want to do free-motion work, then you're going to be past the entry-level  stage anyway and will likely have moved on to a Bernina, Pfaff or Husqvarna!
Overall?
Let's not beat around the bush: this is not the Rolls Royce of sewing machines.  The Singer name does not mean the same quality of machines it used to 30 years ago and £80 is not a lot of money when we're talking about sewing machines. It can be a bit 'clunky' and 'whine-y' but less-so than its rivals around the same price.  Others at this price point include the Brother LS14 or LS17 , Singer 1507 (Around £99), and Singer Promise (£89) but the Tradition 2282 beats them all hands-down.  It holds its tension settings and is less prone to jamming than its sub-£100 counterparts. Keen hobbyists will soon move on to something more advanced, but for a beginner,  a young person or the occasional 'hem-taker-upper' the Singer Tradition 2282 sewing machine is a very good purchase.
To read about my recommendation for a good-all rounder, robust machine, which would be an excellent upgrade, see my review of the Husqvarna Viking Emerald 118.
For an independent specialist sewing machine dealer, try Pembertons Sewing Machine Centre.
If you've enjoyed reading this review, then please help me continue to provide advice and support to the sewing community and buy me a coffee.