Learning to Sew: Read these 5 Top Tips
If you've just started learning to sew, read these 5 top tips to help.
Sewing can seem daunting to a novice. There is just so much to know. Well, here are a few tips to make learning to sew easier: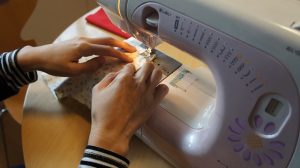 Learning to sew. Get to know your sewing machine.
1. Get to know your sewing machine.
Practice winding bobbins and threading the machine until you can do it easily and quickly, without thinking. Check the manual to make sure you've got the bobbin in properly, and the machine is threaded correctly. Even small errors here can have a big impact on the quality of stitch, or even if the machine sews at all. Once you've got that mastered, then get some scrap fabric and practice sewing straight even rows. Line up the edge of the fabric using the markings on the needle plate. The presser foot edge is also a useful guide for getting straight rows of stitching.
Working your way through the manual, try out all the stitch options on your machine. Experiment to see what happens when you change the stitch length and/or width for each of the stitch type settings. Look at the stitching. Does it lie flat and smooth or is the fabric wrinkled or puckered. It could be that you need to change the tension (the 'tightness' of the thread. Try all the presser feet and accessories supplied with your machine.  By 'playing' in this way, you'll gain an understanding of the function of each control knob or dial, and discover what your machine is capable of.
Once you're confident about using your machine, then you're ready to sew your first project. If you need help in getting to know your machine, then take a Beginners sewing class.  There's nothing like getting professional help right from the start so you don't develop any bad habits.
2. Don't be too ambitious too early!
You may aspire towards sewing a cocktail gown in bias-cut silk satin, but I don't recommend it if you're just learning to sew. Your starting project should probably not be a garment at all.  Why not try a couple of craft items such as a tote bag, or an envelope cushion? Then there's make-up/toiletry bags, jewellery organisers, table mats and a whole range of other easy sewing projects. These are quick and easy to do but will improve your cutting and sewing techniques and your understanding of how fabric behaves (the 'handle'). You can concentrate on getting the sewing details right without worrying about the added complication of making it fit.
3. Choose fabric that's easy to use.
It's usually the exotic designer fabrics that tempt non-sewists into learning to sew in the first place but there are also lots of lovely printed craft cottons. These are available at reasonable cost and are much easier for novices to work with. Craft cotton stays where it's put on your cutting table, doesn't wrinkle or slip when you're sewing it, and is easy to iron. It doesn't require specialist threads or needles and is quite forgiving if you have to unpick. Avoid anything with a high polyester or viscose contact as they're too slippy. Stretchy lycra or knitted jersey fabrics also need special techniques too, so leave them until you have more experience handling fabric.
4. How to choose your first dressmaking project
OK so you've made bags, cushions, draught excluders and aprons for everyone in your family and you're desperate to make clothes. Then I recommend a straight or A-line skirt, pyjama bottoms or a simple top to start with. Most patterns are graded according to their level of difficulty so look for one that says 'Easy' or 'Beginners'. There will likely be only 2 or 3 pattern pieces and the garment won't need complicated seaming techniques to sew together. Pay attention to the recommended fabric types and follow the instructions for an enjoyable sewing experience and a successful result. Dressmaking classes can help you get the right fit, and learn foundation sewing techniques as these aren't always explained in the pattern.s
5. Don't ever stop learning to sew!
Once you've got your first garment under your belt, keep going. Even if it wasn't too successful, don't be disheartened. Find out what went wrong and try again.
Read all you can to increase your sewing knowledge. Subscribe to a sewing magazine or blog, or treat yourself to a reference book or two that has clear drawings or photos. Better still, attend a sewing class if you can find one in your area.  Nothing is as good as getting 1:1 tuition or being part of a small group.  It's much easier to try something when there's an experienced tutor on the spot to demonstrate and give advice. Making a commitment to attend regular classes ensures that you sew regularly each week, helping to reinforce what you learned earlier so there's no excuse for letting things slip. It gives you some 'me-time' and is also sociable and fun.
The more information you can learn about fabric types, techniques and equipment, the easier and more exciting you'll find sewing, and the better will be your results. Remember, learning to sew is a lifetime's occupation.
Good Luck!