If the new series of the Great British Sewing Bee has inspired you, then here are ten more reasons why you should learn to sew.
1. High street retailers offer little variation.
High Street retailers generally regard us as sheep.  That we'll blindly follow whatever 'style' they dictate is 'fashionable' regardless of whether it suits us.  And unless you learn to sew, you have no alternative.  Each season the shops are flooded with huge quantities of clothes in the look and colours of the predicted trends.  Tough luck if you don't like orange jumpsuits!  Have you ever trawled the shops looking for something 'a bit different' and not found it? Or gone out and seen at least one other person wearing the same thing.  If you can make your own, then you can have exactly the style and colour you want to be able to express your individuality.
2. Everyone's body is different and a standard size doesn't fit all.
High street sizes are allocated in a rather arbitrary manner, with the sizing tending to be a bit skimpy in some stores.  How often do you need a size 12 in one shop and a size 16 in another?  Or if you're pear-shaped with a size 10 top and size 14 hips, forget about getting a dress to fit.  If your torso is slim but you have a larger bust, then you either put up with straining buttons or get a bigger size, but then the neckline and shoulders will gape.  Slim hips but a curvy bottom? Then your trousers or skirts will dip at the back and you'll constantly be tugging at the waistband.  Very few people are lucky enough to have the perfect figure upon which High street shapes are based and poorly-fitting clothes that wrinkle, bulge or sag just draw the eye to our less-than-perfect bits.  Well-fitting clothes in flattering shapes and colours take pounds off you or even up to 2 dress sizes!
3. Save at the Alterations shop
Once you learn to sew, repairs and alterations are a doddle.  Meaning you can take advantage of that fabulous bargain dress in the sale but it's a little too big on the waist, now you know where to place a little nip and tuck.  You won't need to throw away that shirt just because it's lost a button or the seam's split. My 'Beginners Sewing Course'   includes a section on how to insert zips and take up hems. Recently, a student stated that the cost of the course (£70) was worth it for that section alone.  She regularly pays £12-£15 every time she takes trousers to the tailor to be shortened or to have the zip replaced. Follow this link for details of my Beginners sewing classes or Dressmaking courses.
4. Quality will out.
It's generally thought that homemade clothes are poorer quality than shop-bought.  However, once you've learned a few basic principles and take care to avoid the mistakes that scream 'home-made' you'll see that quite the opposite is true. There is a subtle different between 'handmade' and 'homemade'. Once you learn to sew, you'll become more discerning. Next time you're in a changing room, you'll be examining the seams and tutting, when you realise how inferior High Street fashion can be.  Then you'll be reluctant to part with your hard-earned cash for that new outfit that costs a fraction of its retail price to make.
5. Learn from History
If you're a vintage-clothes junkie and you can't sew (yet), then what are waiting for?   Look at all those gorgeous fabrics and styles you're missing out on.  Clothing in decades past was generally better quality than it is currently.  Natural fabrics such as pure cotton, wool and silk were used instead of the cheap acrylic and polyester prevalent now.  Construction techniques were also superior.  Fashions changed less often so clothes were made to last.
Today, fashion cycles in High Street Stores last less than a few weeks, and the clothes will as well.  Charity shops are a great source of original vintage clothing and retro fabrics which you can wear as they are, or re-model into something completely different. Just think how creative the GBSB contestants can be on the alterations challenge.  Specialist vintage outlets and Vintage Fairs sell original clothing which may need a nip and a tuck here or there, or a small repair but you can pick up a real mid-century gem.
6. Go Green
Does your conscience tell you that you need to recycle more? Then learn to sew and do a bit of upcycling with those old jeans.  You could turn them into a cute skirt? Or if they don't fit anymore there's still lots of useful fabric in them.  What about making a shopping bag, flower corsage or a handy storage basket.  And there's the fun of creating completely new fabrics from scraps. Why not try my Rags to Ritches creative workshop. You'll need it to store all those dress patterns and fabrics you're going to be collecting.
7. Keeping Skills Alive
It's a common belief that sewing and other such activities are for old ladies.  It always used to be something that Granny did, and she'd learned from her mother.  However, we seem to have skipped a generation or two and the skills are no longer being handed down. Perhaps since the rise in the population of working women since the 1970's, few women have learned these skills and haven't been able to pass them on to their children. It's rare for schools to teach any sort of needlework skills either, meaning these ancient crafts are in danger of dying out altogether.
It's reassuring to see the upsurge in the numbers of people of all ages and genders who are taking up the traditional skills of sewing, knitting, crochet and other needlework crafts in recent years, and long may it continue.  Such skills are viewed by some to be backward or inferior in today's technological world but when broken down to their component parts, the skills are still very relevant.  Sewing involves creativity, calculation, planning, logical thinking, good hand/eye co-ordination, concentration, time-management, organisation and determination to name just a few. All essential and transferable skills. There's such little opportunities to spend quality time together, why not book a family session for you and your children and learn to sew together.
8. Hobbies are good for you.
It's healthy to have a hobby and an outlet for your creativity.  If you have a job that you find less than stimulating at times, then you may just need another activity to take your mind off it.  Switching off after a stressful day can be difficult but diverting your attention onto a different task which requires all your concentration is proven to be greatly beneficial to health and wellbeing.
In today's world where we're constantly craving instant gratification and quick fixes, taking time out to slow down and concentrate on just one task can actually be a relief.  It requires time and effort to learn to sew well and the resulting satisfaction is well-worth it.  Beautiful bias-cut tops such as the contestants made this week on The Great British Sewing Bee can't be achieved by taking shortcuts.  So put down the mobile, or tablet until you've finished your sewing project.  Then you can get back on Instagram to post a photo of it!
Sometimes it's difficult to find the time when the demands of others are all around however sewing gives you a reason to take time out for yourself. So escape the routine hum-drum problems of everyday life and focus just on you.  Also if you attend sewing classes, there's the social interaction aspect to consider too.  This provides an opportunity to meet with other people, perhaps from very different walks of life, who are also learning, giving you something in common and perhaps you'll even make new friends.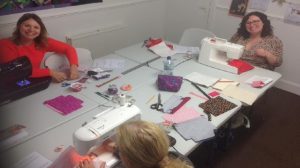 A Beginners Sewing Course in progress.
9. It's not as difficult as you think!
If the look of a sewing machine or sewing terminology scares you, don't worry.  Once you learn to sew words like bias-cut, godets, and princess seams will become second-nature to you.  Like anything new, you need to take one step at a time.  Start with a basic but good quality sewing machine (consult a local dealer for advice) and an easy pattern.  Fabric shops will be able to advise on patterns and fabric suitable for beginners.  Look for a minimal number of pattern pieces and avoid stretchy and slippery fabrics until you've had more experience.   There is a wealth of information online on all aspects of sewing but this is no substitute for attending a beginners sewing class if you can.  There you can learn professional tips and get hands-on practical help whenever you need it.
10. Kudos
Just think that next time a friend compliments you on your outfit, you can say 'Thank you. I made it myself!' How cool is that?