How to choose Sewing Thread
Another year almost gone and I've just got time to squeeze in a final blog post. Possibly the subject I've been asked about most this year is How to choose the correct machine sewing thread?

It is confusing as there's a huge variety of machine sewing thread available. It helps to have a little knowledge about them to make sure you choose the most appropriate for your project. Ultimately, the raw materials you use will affect the outcome of your project. To avoid frustrating problems such as constant thread breakage, or seams splitting during wear, it's important that you choose the best one. For sewing garments together, use the same thread on the top and in the bobbin. However, for machine embroidery, you might want to experiment using different threads in the bobbin. You can even use a thick thread in the bobbin and sew from the reverse side to create additional textures.
Thread Counts
Firstly, machine sewing thread is rated with a number according to its thickness. This number is called the thread 'count'. The higher the number, the thinner the thread. Machine sewing thread for general crafts or dressmaking is around 50, while embroidery and specialist threads can vary greatly from this, however most threads available in the sewing retailer shop are not marked but they will say whether the thread is suitable for machine sewing.
Thread types
Polyester 'Sew-all'
Polyester makes a strong machine sewing thread with good abrasion resistance. It also has a slight stretch so it's good for dressmaking as it will 'give' with the garment while being worn. This should be used when sewing synthetic fabrics and stretch knits, but is also good for cotton projects.
Cotton
100% cotton threads are limited in their elasticity so are best used only on cotton or linen fabrics and quilting projects. They also have slight shrinkage and will wear through washing. Do not use cotton thread to sew stretch fabrics; it doesn't have the necessary 'give' and may snap. Included in this category is the specialist quilting cotton which is coated to allow smooth passage of the thread through many layers of cotton and wadding.
Cotton-wrapped polyester (All-Purpose thread)
 As the name suggests, this has a polyester core for strength and elasticity, while the cotton outer layer gives the smoothness and lustre of mercerised cotton. It can be used for general sewing or decorative topstitching.
Topstitching or Buttonhole Twist
This is a thicker thread to make the stitching stand out, as you'd require for topstitching details on jeans, or seams on childrens clothing. Use a size 16 needle or a special topstitching needle which has a larger eye to prevent thread wear. This is not suitable for sewing garments together and you should limit the amount of backstitching to avoid an unsightly build up of thread.
Upholstery
Also known as carpet thread, this is extra strong for mending carpets, rugs and sewing upholstery projects. Traditionally this would be made of linen but is now likely to be polyester.
Silk
Silk thread is strong, elastic and beautifully lustrous. It doesn't leave a mark when pressed and was often used by tailors. However, the cost for general use may be prohibitive so is usually reserved for sewing silk projects or for embroidery or decorative topstitching.
Tacking
Tacking thread is generally made from cotton and is very fine. It doesn't leave an indentation when the item is pressed, and it snaps easily to aid removal. It's not suitable to sew garments together so do check by wrapping some around each hand and pull. If it breaks, then it's probably tacking thread. It's usually only available on large 1000m reels and in very limited colours but it is very cheap.
Machine Embroidery
Thread for use in machine embroidery comes is a large variety of weights and can be made from silk, polyester, the wonderfully-shiny rayon (aka viscose), or contain metallic elements giving richness and sparkle to your piece. I love rayons for the intense colours and high sheen. Look for the name 'Sulky'.
You can use ordinary polyester sewing thread and will generally give a good result. 100% cotton sewing thread wears easily will quickly fray and break. The quilting cotton which I mentioned earlier and which has a waxed coating works better than ordinary cotton and gives a more matt result than rayon or polyester threads.  However for reasons detailed below, I always use a 'Topstitch' needle when doing machine embroidery with this type of thread.
Wool/acrylic blended thread is available which gives soft colours and a matt texture.  Look for the variegated tonal ranges which are either commercially produced,  or for more expensive but subtle, hand-dyed ranges.
Machine embroidery, and in particular free-motion embroidery, takes place at very high speeds. Therefore it places a greater than usual strain both on the thread and the needle. Using the correct type of needle is just as important if frequent thread breakage is to be avoided.  Specialist machine embroidery needles should be used to minimise thread-breakage and should be changed often (after a few hours of sewing). Needles are available which will be labelled 'Embroidery' or 'Metallic' but I find the large-eyed 'Topstitch' needles in size 100 are good for this reason, and can give many hours of continuous sewing even when using metallic threads. (See my blogpost about sewing machine needles for further details on the type of needles available).  Machine embroidery thread is not suitable for sewing garment pieces together. For more information on sewing machine needles, see my blogpost http://wp.me/p5ZBgi-81
How to choose the best colour match of thread?
Nothing screams 'homemade' more than a bad colour match so take time to get the best match that you possible can. When you go to buy your thread, hold the fabric close to the thread in the approximate colour range. Select the two or three reels that are closest, pull a little of each thread off the reel and lay them on the fabric. The best one will settle into the fabric while the others will stand out more. If in doubt, choose a thread that's one or two shades darker then your fabric as it will sink into the shadows of the seams; a lighter tone will stand out more.
For multi-coloured fabric, decide what is the predominant background colour in the fabric and match your thread to that hue. If the fabric is striped or two-tone, you could use two separate colours according to where the seams lie on the pattern. If you want to do emphasise the design details with topstitching, then consider using a contrasting colour.
Should I economise by buying cheap thread?
Ultimately the success or failure of your project will depend on your basic materials used. Therefore so it's not worth buying cheap machine sewing thread. It's likely to snag and break, creating frustration and will be a poor economy. Good quality thread is worth its price. Good quality machine sewing thread should be evenly spun and have a sheen.  Examine a short length closely and if it appears uneven i.e. thicker and thinner sections, then don't use it. The unevenness may lead to breakages and tension problems. If the thread appears 'fluffy' with tiny fibres visible, this may be a result of poor quality raw fibres or a poor manufacturing process. It will lead to a build up of lint in your machine and in the air whilst you're using it.
Sewing thread, especially cotton, will deteriorate through age and if kept in poor conditions.  If you have any of those old wooden reels of 'Sylko' and you're wondering if they're still any good, then do the 'snap' test. Wrap a little thread around the fingers of each hand and give it a pull. If it breaks, then discard it. Better to put them in a kilner jar to make a vintage-style decoration for your sewing space!
Vintage reels of sewing thread for decoration.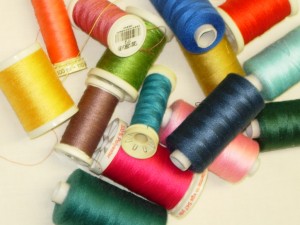 A selection of threads in various colours suitable for machine sewing.