Here's a rundown of the sewing classes and workshops happening at Artisan Stitch throughout July.  So if you're on holiday in East Lothian and looking for something different and fun to do, why not try a new hobby like Feltmaking, or make a gorgeous wrap skirt?  Easy to make and even easier to wear!

Are the kids getting under your feet and you're looking for some creative activities for the school holidays?  Then book them into my Children's Summer School. This is a week-long course for 2 hours each day. We'll cover all the basics including SAFE use of sewing machines and make some fun projects.
If you're afraid to use a sewing machine, why not get 'Sewing Machine Confidence'.  A one-off 3-hour easy session to teach you how to use a sewing machine safely. Learn to sew perfect straight lines, smooth curves, and turn corners. Then you can make a scented lavender bag or a useful pincushion.  My ever-popular 'Beginners Sewing Skills course is back again too. It's available as an evening course over 4 weeks, or also as an intensive weekend sewing course.  Just as much fun either way.
If you can already sew and are looking for an easy sewing project, then why not try my Wrap skirt sewing class, or an envelope cushion. Both are great projects for a Beginner or an experienced sewer.
If you think sewing is just about taking up hems, then try the Free-motion Embroidery workshop. Learn to use the sewing machine as a drawing tool and create a range of surface patterns and textures. Kirsty Allsopp described this as the 'Crack Cocaine of Craft' and she's right. It's totally addictive.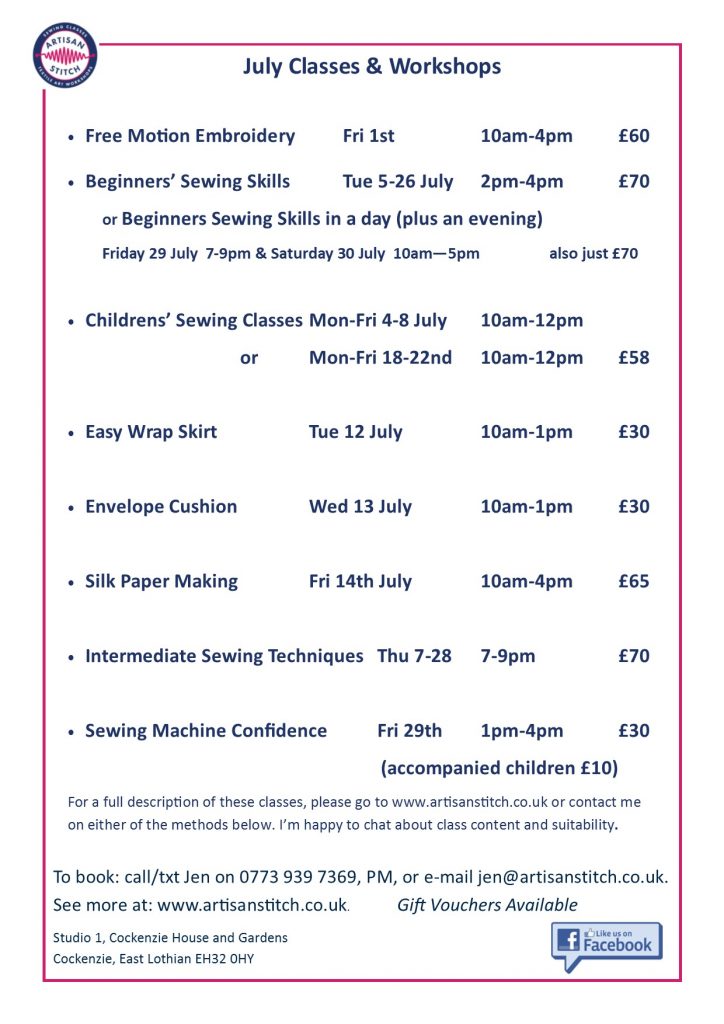 Sewing Classes and Workshops in July