Childrens sewing course
My childrens sewing course is an ideal school holiday activity. Does your child want to learn to sew? Are you looking for some creative classes for the school holidays? Then here is your answer!  During my week-long summer schools, I hold a series of children's sewing classes. Firstly I'll cover how to use sewing machines safely. Then we'll make some decorative bunting, tote bags and other fun craft projects for children.

I've designed all these projects to help your child develop basic sewing skills.
I started hand-sewing when I was around 5, and I learned to use a sewing machine at age 7. I haven't yet sewed through a finger, so I know that children can easily and safely be taught to sew.  Plus, if you learn when you're very young, those skills stay with you for the rest of your life.   Sewing is an excellent way to stimulate your child's creativity. It also helps develop  manual dexterity, co-ordination and concentration.  Focusing on a task, which involves several stages is an essential skill as an adult.  When the processes are short and fun, so the child creates something worthwhile without getting bored. The result gives them a sense of achievement and rewards them for their effort.
My projects can be completed in each 2-hour class. The following day's project builds on those skills and introduces another aspect. As well as the technical sewing skills,  the children learn to select appropriate fabrics and combine colours.  I'm amazed at the creativity that's unleashed. It's always a pleasure to watch the design process!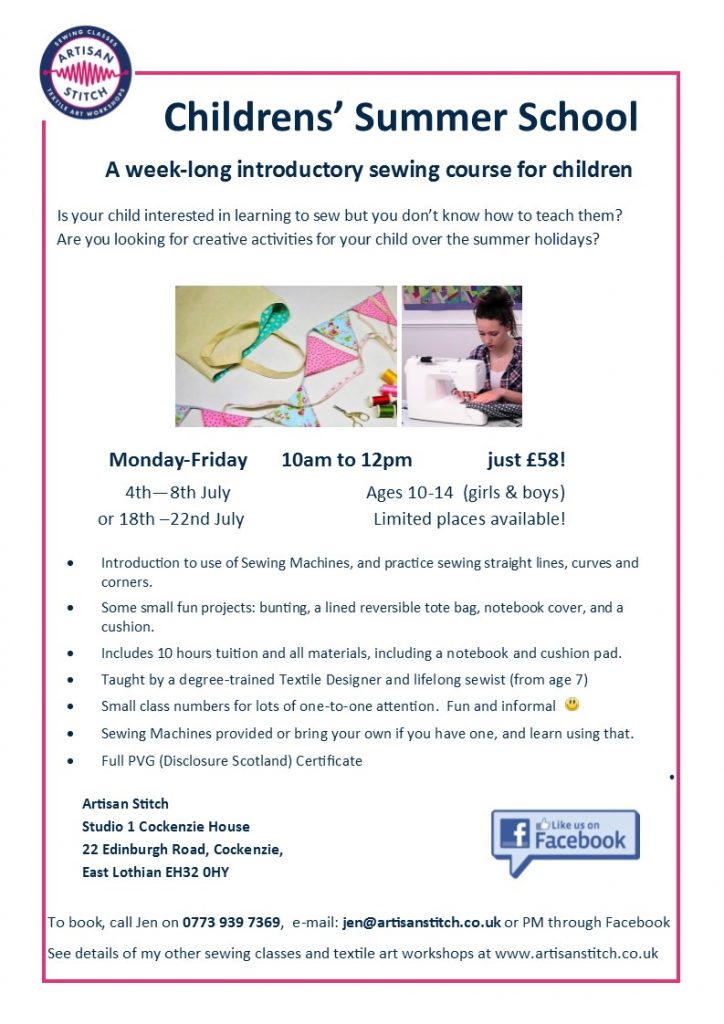 Details of Childrens Summer School – a childrens sewing course.
Check my current Kids sewing classes