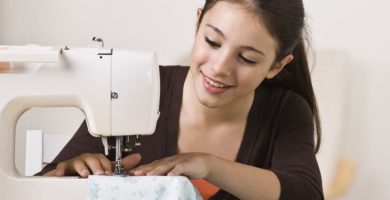 Kids classes include a childrens sewing course and lots of children's craft classes during school holidays and term-time after-school activities.
Sewing is a fantastic activity for children.  It aids mental development, hand-eye co-ordination, and problem-solving abilities. Children get a huge sense of satisfaction, achievement and self-worth from sewing.
Covid-19 update:
Due to the Covid-19 outbreak, the children's classes planned for the school summer holidays are cancelled.  Please watch my Facebook page or sign up for my newsletter for further updates on children's events which I  hope to re-instate as soon as possible. 
Saturday 05/12/2020
10:00 am - 1:00 pm
Rag Wreath - Have fun and prepare for Christmas Making a rag wreath is a fun craft class for adults and children to do together. Homemade christmas decorations are always much better than shop-bought.  You can personalise the colours to match your colour scheme, and learn upcycling skills by using up lots of fabric leftovers...