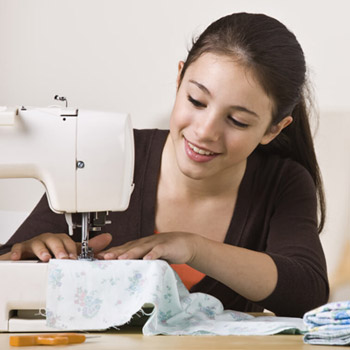 Next Event
Rag Wreath - Saturday 02/12/2023 - 10:00 am - 12:30 pm
Description
Kids Sewing Classes.  Sewing is a fantastic activity for children.  Not only will they learn an essential life skill, sewing aids mental development, hand-eye co-ordination, improves focus and problem-solving abilities. Children get immense satisfaction, achievement and a sense of self-worth from sewing.
I was introduced to a sewing machine at around the age of 7, and I loved it! In fact, I've been sewing ever since.  Mum and me would alter hand-me-down clothing from older cousins. I'd always get a new dress for holidays – handmade of course.  Many of my happiest memories are of spending an evening sewing with Mum. For me, sewing has been a lifelong passion and I feel a responsibility to pass on my skills. Even more so as schools don't place much emphasis on creativity and such subjects have all but vanished from the curriculum.
I'd love to get families sewing and crafting together again so watch out for my Family sewing days. You can come along with a child (all genders welcome) and spend a fun day learning new skills together.
Due to the difficulty in setting dates and times to suit everyone, classes can be arranged on a block-booking basis for 5 children. Cost is £150 for a 2.5 hour session. Sewing and craft classes can be arranged during school holidays and term- time after-school activities.  'Parent and Child' events are also available for 6 attendees (must include at least 2 adults aged 18 or over).
Please get in touch if you would like to book a session. (e-mail jen@artisanstitch.co.uk)