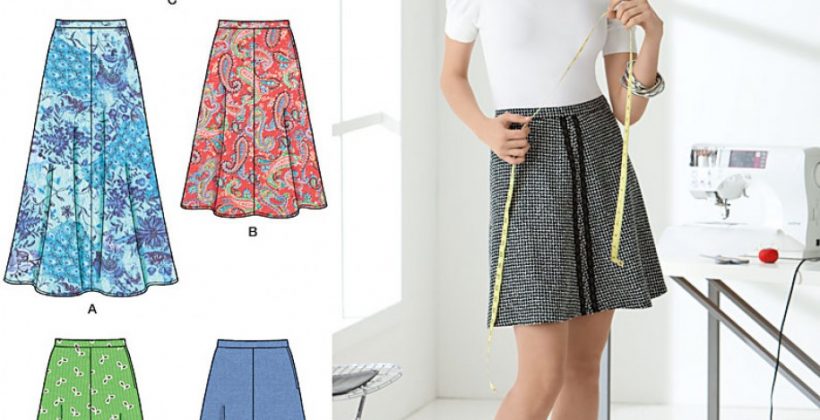 Beginners Sewing Patterns
Beginners sewing patterns may not be the most glamorous or fashion-forward designs. But when you're just starting out on your sewing journey, it's easy to get carried away with your ambitions and take on too much. Perhaps you aspire to design Oscar-red-carpet worthy frocks for A-list celebs. Just take a look at the gorgeous outfits worn by Emma Stone on the Golden Globes La-La-Land tour. But Prada and Gucci gowns such as these are highly-technical feats of textile engineering requiring the very best of precision cutting and sewing techniques. My advice is to take a Beginners Sewing Course to learn the correct techniques. Concentrate on learning foundation sewing techniques and doing them well. Then building up your skills by making simple shaped garments in easy-to-handle fabrics. Gradually, you'll increase your repertoire until you can take on the more advanced projects.

Where to start?
So you've had your first sewing lesson, and you now know your way around a sewing machine. Probably that sewing session included making a pin cushion or an envelope cushion. Great! That'll have introduced you to cutting fabric and sewing a basic seam. However, you may already have realised that it's often not as easy as it's sometimes made out to be. Even measuring and cutting fabric evenly can take some practice. Whilst the catwalk awaits your stunning creations, perhaps then it's best to start with something a bit simpler until you've honed your skills.
Beginners sewing patterns are based on simple shapes with minimal pieces and no tricky features or fastenings. But even before you launch into your fashion-sewing career, why not try a couple of craft projects first? They'll give you more practice at cutting fabric and sewing straight, even seams to build your confidence. And you won't have to worry about the added complications of shaping that fabric to fit around your body.
Pattern brands such as Simplicity, New Look, Vogue, Butterick and McCalls all have specific pattern collections that are suitable. I'm quite impressed with Simplicity's 'Learn to Sew' range so here's my pick of beginners sewing patterns that will be quick and easy to do. They'll also build your repertoire of sewing skills, and be satisfying to use and to wear.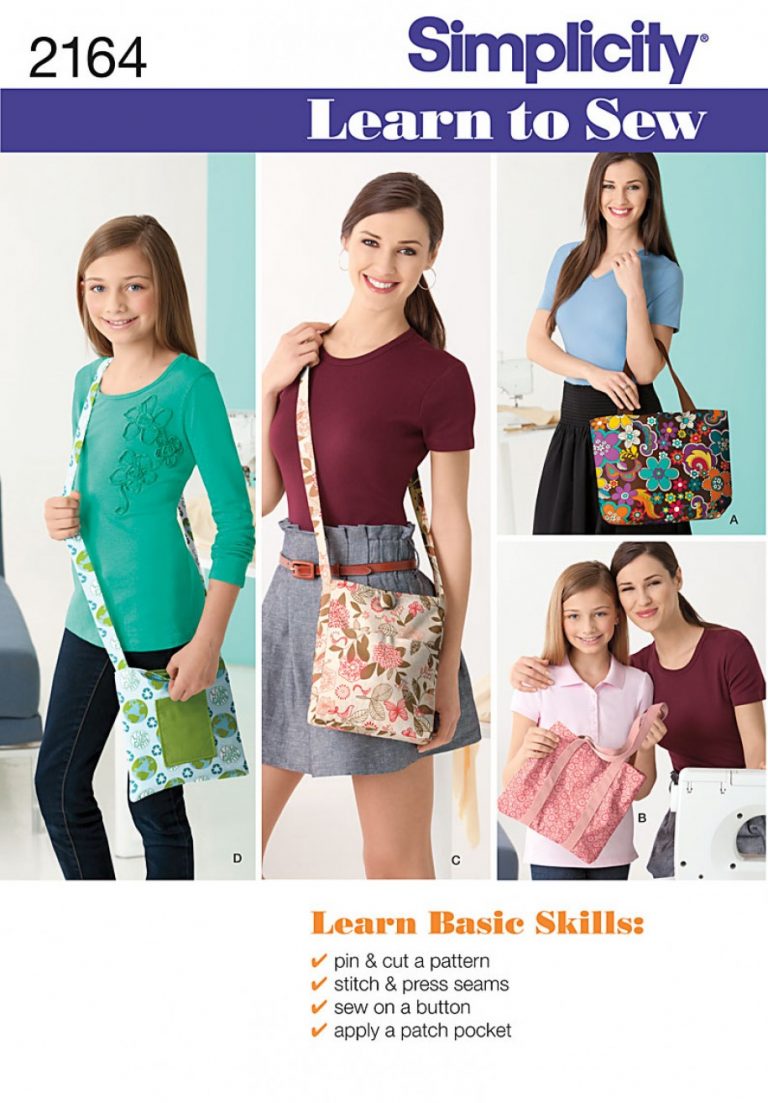 Simplicity 2164 – a range of useful and stylish bags
Simplicity 2164
I love this easy bag pattern with four variations from large Tote shopper, to over-the-shoulder messenger bags with pockets. These are the type of items you could complete in an evening. Oh the sense of satisfaction gained when a single sewing session produces results.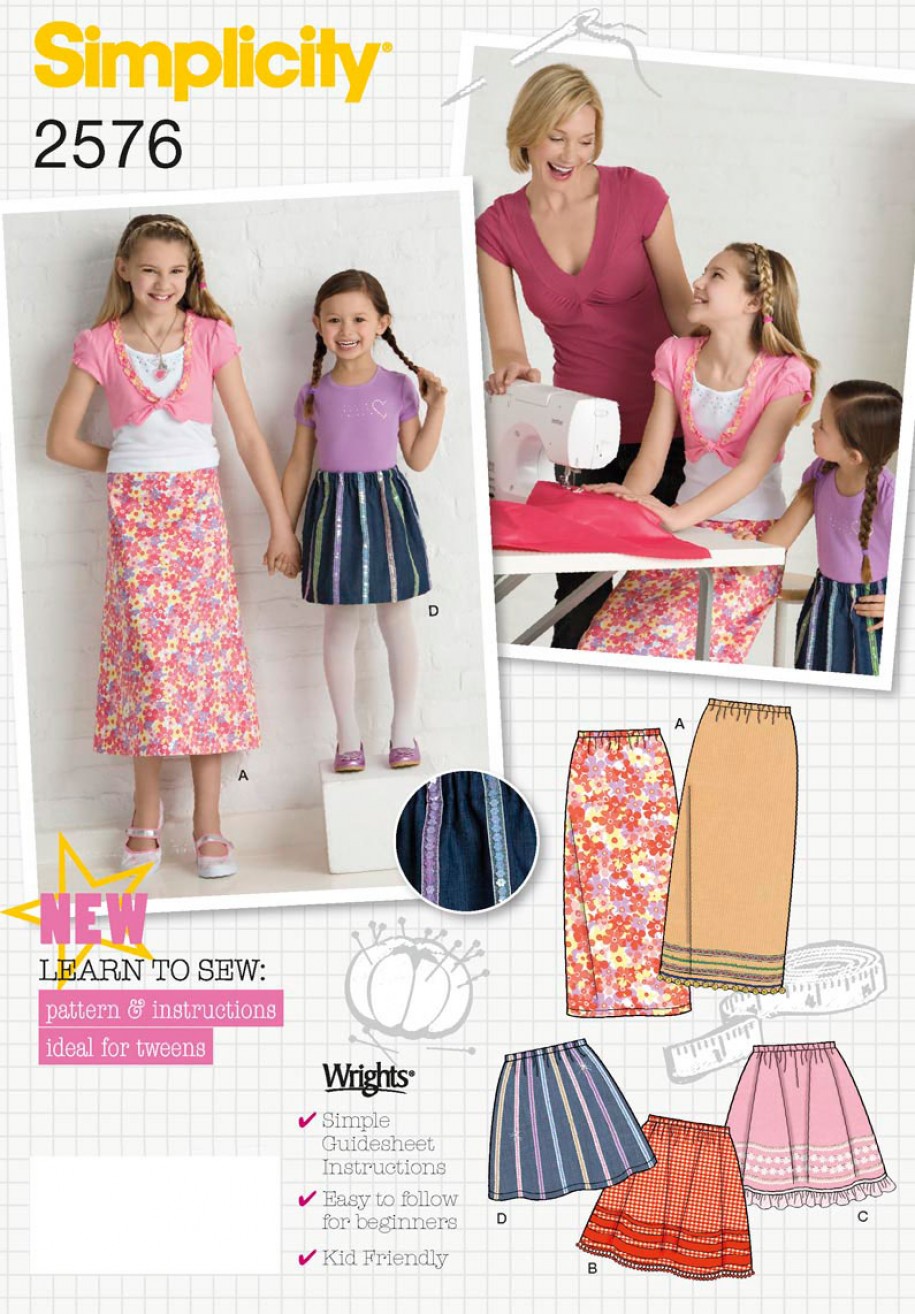 Simplicity 2576. Girls' pull on skirts
Simplicity 2576
This pattern's ideal for the younger sewist; there's no tricky dart shapings or waistband; just a simple gathered elastic casing. With a long straight version or shorter fuller style, there's lots of opportunity to give these styles your own stamp. With suggestions for applying trims, this is a pattern that can be used over and over, with totally different looks every time.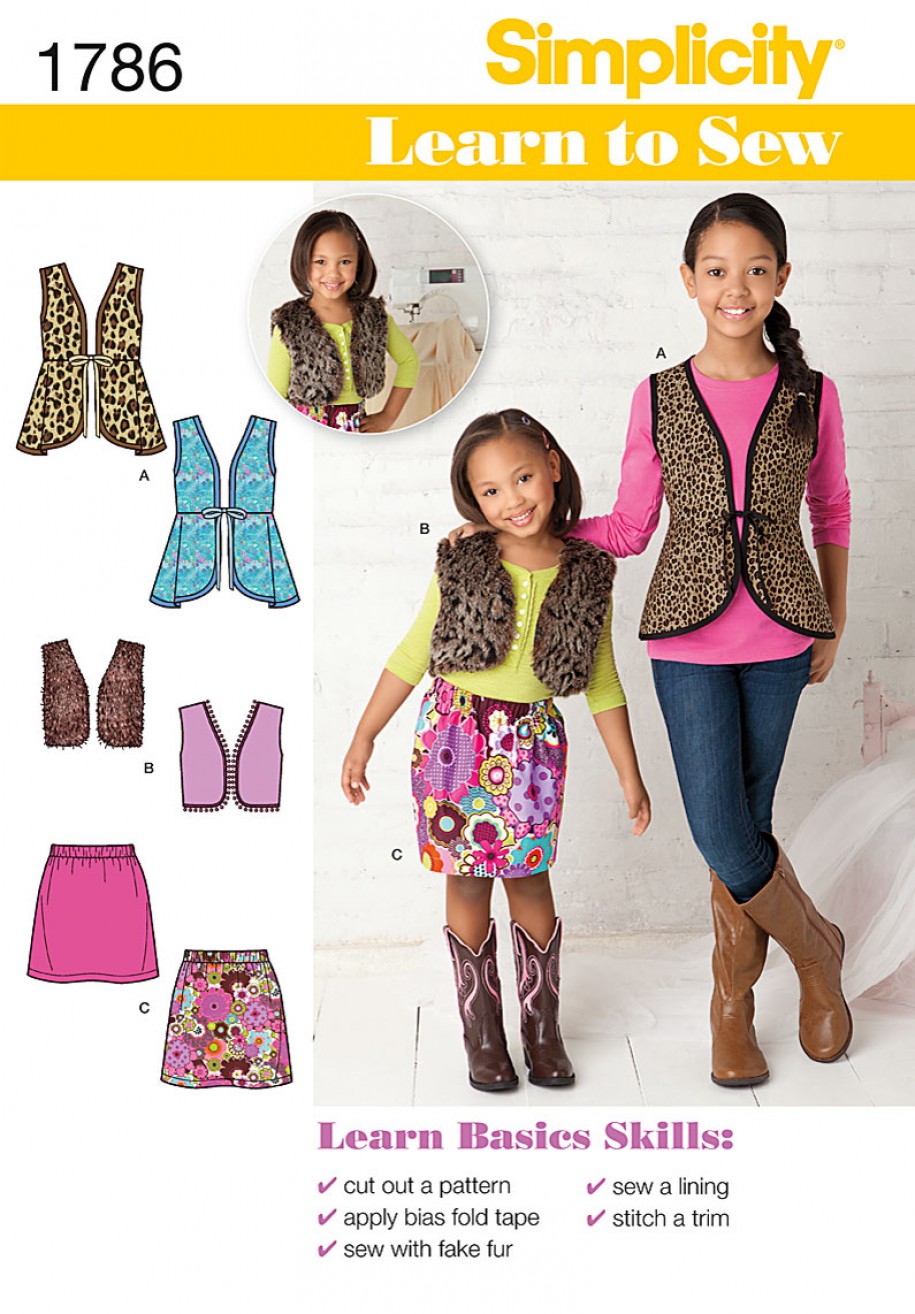 Simplicity pattern no 1786. Girl's pull-on skirt and gilet
Simplicity 1786
I just love this little gilet pattern introducing skills such as adding lining and using bias binding. Fur fabric is bulky and needs a particular cutting technique. The secret is to part the pile and cut only the base fabric and not through all the fur fibres themselves. Try making the gilet in a short pile fabric such as the sleek leopard-print shown before embarking on the bulkier version. And with the cute little pull-on skirt in the same envelope, this is great value and another pattern that's suitable for keen junior sewists.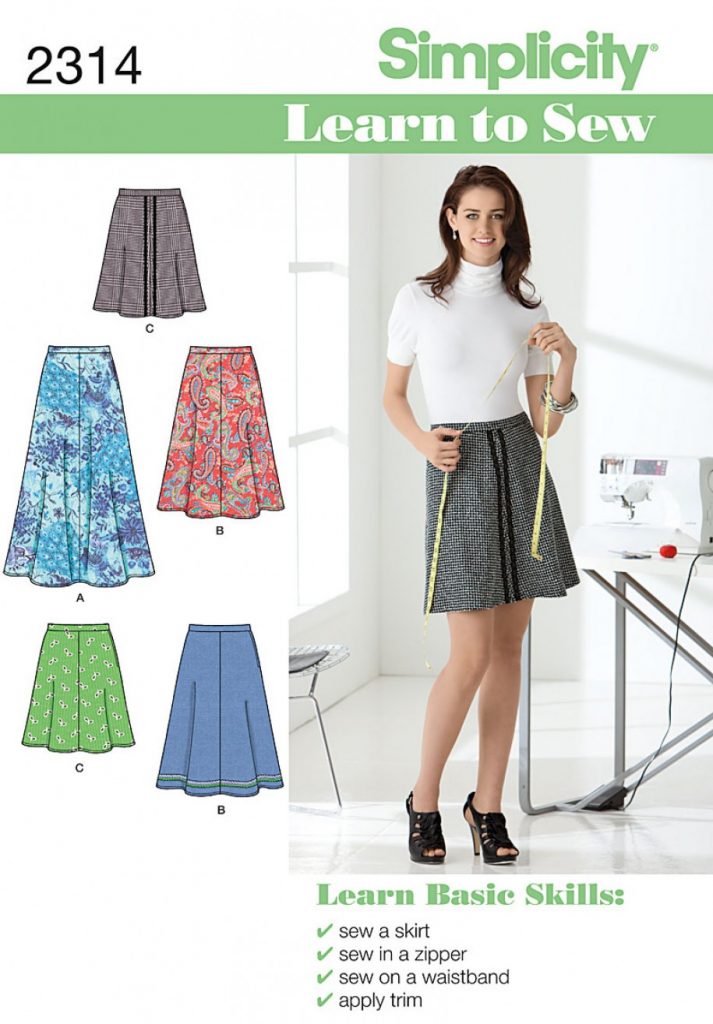 Simplicity Pattern no. 2314. 4-panel skirt in 3 lengths
Simplicity 2314
An A-line skirt is always a good option for an early sewing project and this 4-panel flare is ideal. There are no darts; the precision stitching required to achieve a smooth finish to a dart can be daunting. The style is semi-fitted too, so choose the waist size that's the best match for you. The hip measurement is not quite so critical as it would be in a pencil skirt. The challenges posed by this style are the side zip and the straight waistband. Master these basic techniques and you can put another couple of ticks on your 'to do' list. This is a beginners sewing pattern that's not just for beginners. This skirt is a great wardrobe staple for experience dressmakers too. Suitable for light floaty cotton lawn for summer, or mid-weight wool or denim for winter, it's so versatile. Why not make one for every season! The versatility continues when you consider this skirt can be a foundation office 'uniform' if made in suiting weight gabardine or flannel. Choose a lively tropical print for your weekend alter ego.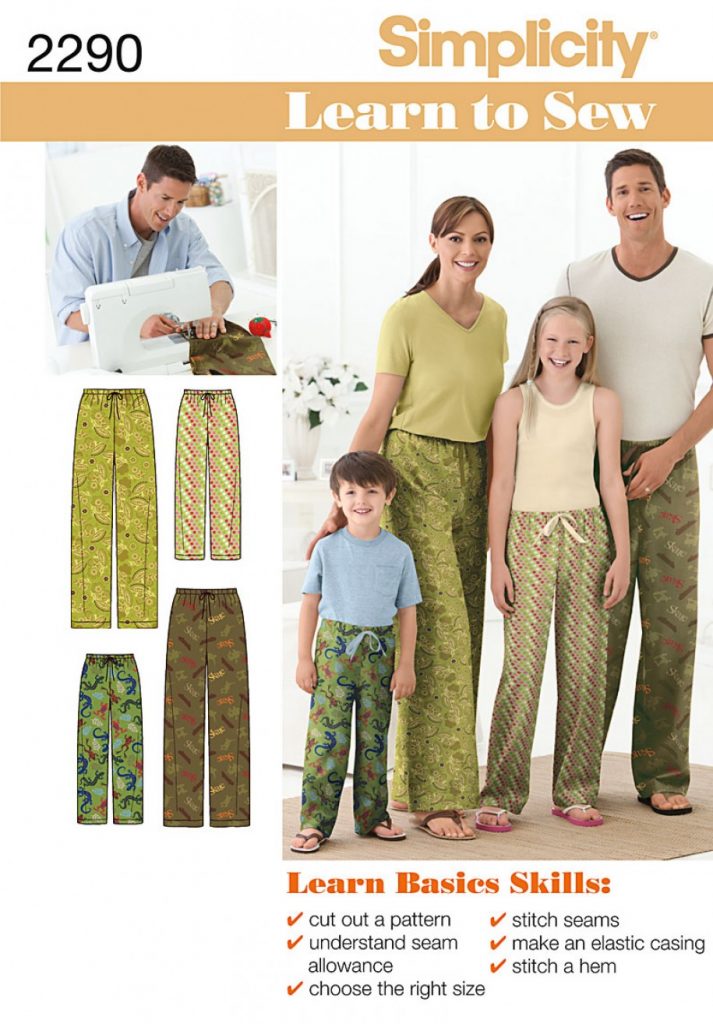 Simplicity Pattern no. 2290 – Pyjama pants for the whole family
Simplicity 2290
For some family-sewing, there's nothing easier than pyjama pants. Simple loose shapes lessen the headache over exact fit. There's minimum seams (only 1 pattern piece), an elastic casing and a hem. Pyjamas really are perfect beginners sewing patterns, yielding quick results. This pattern includes sizing for kids, teens and adults so make them for every member of your brood. Then everyone can settle down in comfort for some cosy sofa time! Don't just leave them for the lounge either. Made in soft cotton/linen blend fabric, tie-waist trousers are great summer holiday staples under a floaty tunic – for ladies or men.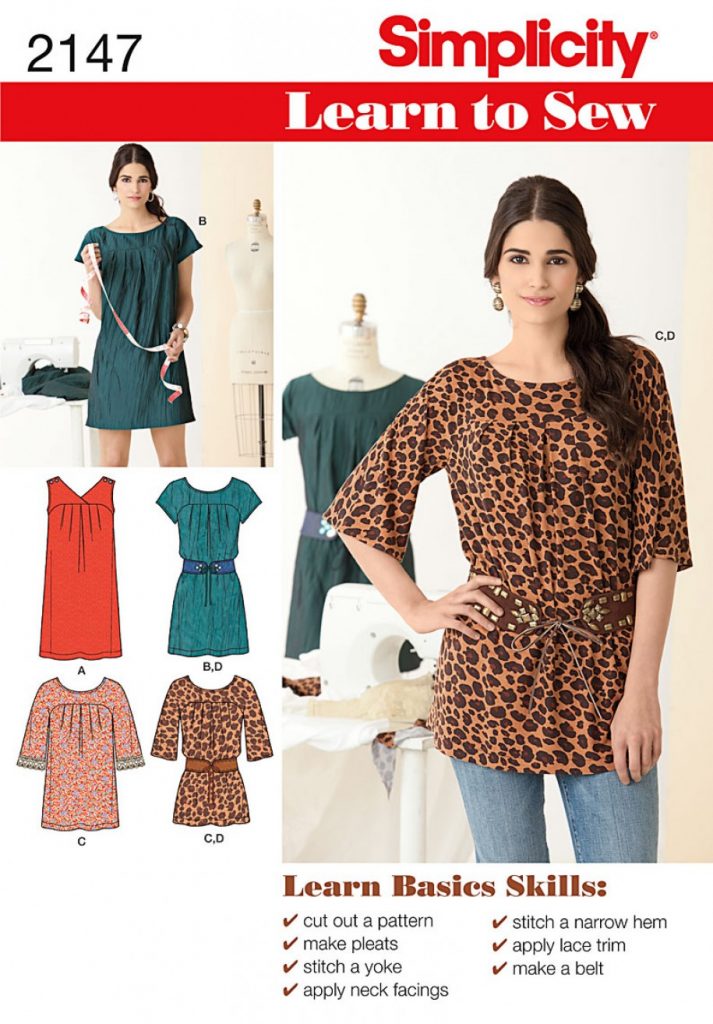 Simplicity Pattern 2147 – Misses Tunic and Dress
Simplicity 2147
Catching my eye for versatility again, is this tunic/dress pattern. Introducing style details such as yokes and pleats, it's taking your sewing skills further. Trickiest bit I see would be the neck facing. But by utilising the technique of understitching, the facings lie flat on the inside and are less likely to roll round. It's another loose fitting style thus minimising the headache of fit. Also there are no fiddly fastenings; it simply pops on over the head. With four style options, make them all and no-one would guess they're from the same pattern.