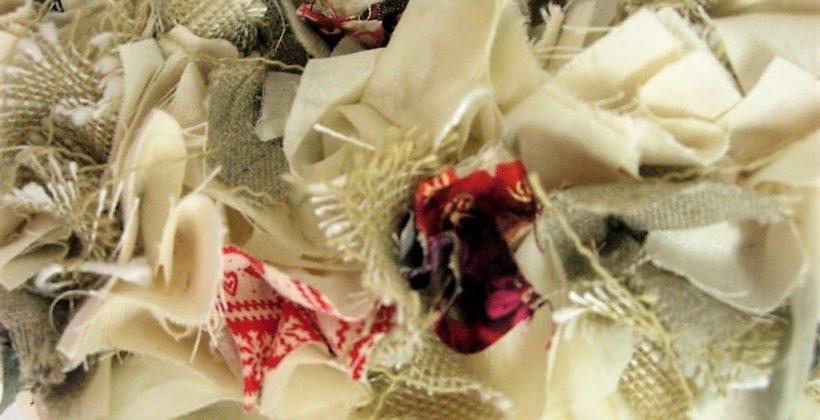 Making a Christmas Rag Wreath
Make a Christmas Rag Wreath to add a personal touch to your festive decorations.  It can be made from fabric leftovers – just whatever you've got lying around. Also, it's really easy so it's a great craft project for children.

1. You will need:
a polystyrene ring, about 25-30 cm in diameter
glue suitable for using with polystyrene
fabric scissors
blunt pencil or a thick knitting needle
fabrics (about 3-4 fat quarters or approximately 1 metre of craft cottons in at about 4 colours, patterns, and/or textures.   I've used a subtle palette of calico, linen, scrim and lace for texture. Some scandic-style red and cream fabric adds colour with some additional plum and olive green print fabrics, and hints of gold ribbon.
2. Cut the fabric into small squares approximately 5cm across (2″).
Don't worry about getting them exactly square; lots of mine were more like rectangules or triangles.  Divide the fabric pieces into 4 piles, having an even amount of each type of fabric in each pile. Use one pile of fabric  for each quarter of the ring to ensure the fabrics are evenly distributed.
3. Dab a dot of glue on the reverse side of a few of the fabric pieces.
Then take one piece and push it into the polstyrene, using the pencil. Repeat with the other fabric pieces, placing them close to the previous one.
4. Continue to work around the ring.
Glue no more than 12 pieces of fabric at once so the glue doesn't dry before you've used the square. Keep the fabric pieces close to the previous one to fill up the area. Make sure to cover up to the inner and outer edges of the ring.
5. Once you have covered the base, check for any gaps and fill with more fabrics.
You could also add pieces of ribbon or lace for extra colour and texture.
6. Add a hanging loop from a length of ribbon or cord at the back and glue it.
You might need to pin in place until the glue dries.
7. Hang up your Christmas Rag Wreath for all your guests to admire!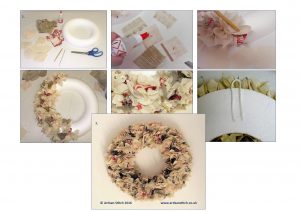 Note:  Because this wreath is not weather-resistant,  it's best that you only use it as an indoor decoration.
Variations
Use bright Christmas prints in red and green for a more traditional wreath, or pure white with pale blue and silver for a 'Frosted' look.  Polyester organza with a shimmer and sparkle would look great!
Add christmas baubles, a large ribbon, dried orange pieces, bundles of cinnamon sticks, pine cones, clusters of nuts or whatever you have available to create extra interest.
Don't just save this idea for Christmas. Why not make one for Easter using bright, fresh Spring colours and tie on chocolate eggs and bunnies!