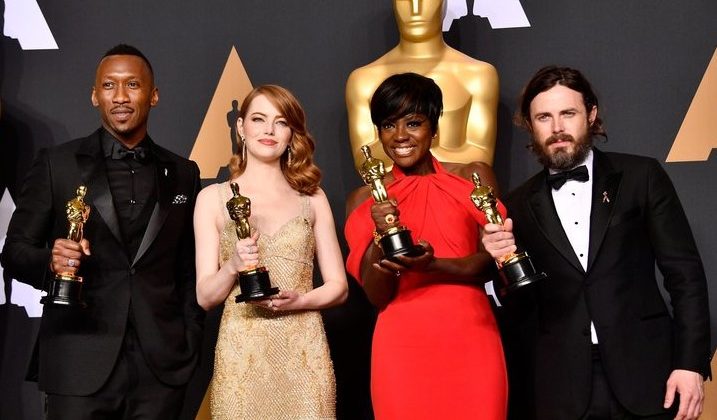 The talking point of last night's Academy Awards ceremony was undoubtedly the announcement of the wrong winner of Best Film.  But my attention as always was on the stunning gowns. So I thought I'd take a look at some of the sewing patterns around that are worthy of an Academy Award themselves.

So you can create your own Oscar Red Carpet frock.  For copyright reasons I'm not able to include any actual images from the ceremony here but follow this link to the Red Carpet Arrivals if you'd like to compare for yourself.
 Oscars 2017 – Red Carpet trends
The overall look was for elegant feminine shapes in draped folds.  Fabrics are soft allowing for full skirts whilst still maintaining the lean outline.  There's lots of draped fishtail skirts and short or longer trains. Colours were predominately shimmering  metallic, classic black/white,  red, or shell pink/nude.
Best Actress (and Best Gown in my humble opinion) went of course to Emma Stone for her gold lace corset with floor length fringe from Givenchy, which shimmered beautifully as she walked. Halle Berry's Atelier Versace gown glimmered in silver-gold.  Asymmetric off-the-shoulder black net wraps led the eye down the beaded skirt into a puddle train.  Viola Davis looked amazing in Firey-red from Armani Privé. Off-the shoulder pleats fall into gentle folds to highlight her slim hourglass shape.  Valentino's signature red for Ruth Negga hinted at Edwardian modesty, with a prim high neck and full-length sheer sleeves.  Nicole Kidman's choice of a delicate nude-coloured lace gown didn't overpower her blonde hair and pale skin.
And the Winner is…  
Vogue have a wide range of designer gown patterns worthy of an Academy Award.  So here are my Red Carpet nominations.   Just a word of warning:  Most of these patterns require complicated construction techniques and/or are made in demanding fabrics so are for Advanced-level sewists only.
V1374
Vogue Pattern V1374.
From Badgley Mischka Platinum, this close-fitting pull-on style mirrors the Kaufmanfranco design worn by Jessica Biel. The front is elegant and body-hugging, uncluttered by fussy details.  However the drama comes in the draping from the shoulders, exposing a sexy back. The skirt is gathered and falls into a fishtail and short train.  This pattern for two-way stretch knits cries out for sequins, sparkle, or a metallic print.
V1533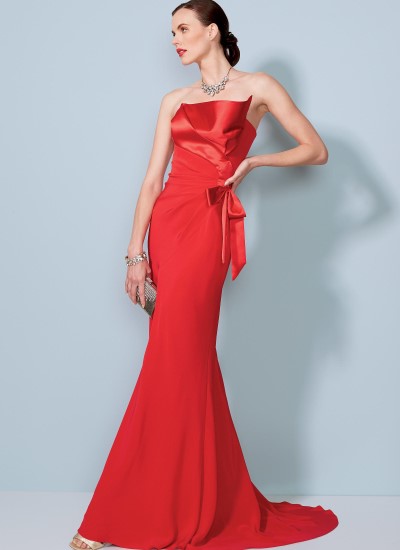 Vogue Pattern V1533
Red always turns heads.  This design by Belville Sassoon is from Vogue's Spring 2017 collection. A strapless, boned bodice uses sew-in interfacing to create the architectural structure, while flattering soft folds fall over the tummy to accentuate the waistline. We see the sweeping fishtail skirt and puddle train again. Suitable for pear-shaped and hourglass figures.  Level: Advanced.
V1534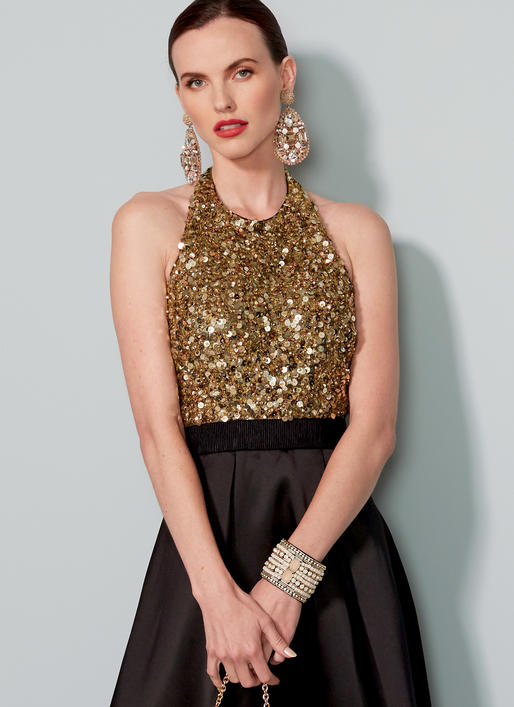 Vogue Pattern V1534.
Another pick from the new Spring 2017 'Lookbook', halter necks are always great to show off pretty shoulders.  This Badgley Mischka statement in gold and black will flatter holiday tans.  The bodice is fitted with side bust darts, linking into a defined waistline and pleated floor-length skirt. The skirt takes up to 4.3m of fabric and would be perfect in a soft satin. You can push the boat out on expensive beaded fabric for the bodice as that only takes a maximum of 0.8 metres.
Would suit wide-shoulders, pear-shapes or hourglass figures.  Sewing Rating: Average
V1535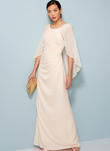 The final choice of the trio from Vogue's Spring 2017 collection is this pretty style including an attached cape. Its close-fitting lined bodice again includes soft drapes to disguise a less-than perfect tummy area.  The folds draw the eye down to the floor-length skirt.  A versatile design suitable for all body shapes but again, only for the experienced stitcher!
V8729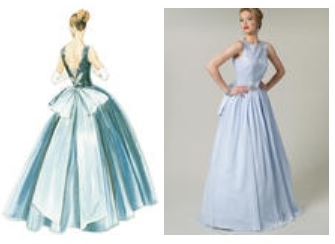 Pattern V8729 from Vintage Vogue collection Circa 1956
But if you prefer to act the role of 'Fairy-tale princess', then why not look back to the 28th Oscar ceremony in 1956, for your inspiration.  Nominations for Best Film included classics such as East of Eden, Bad Day at Black Rock and Blackboard Jungle.  This was the film that featured Bill Haley & the Comets 'Rock Around the Clock'.  It caused riots in cinemas across the US and marked the beginning of the Rock'n'Roll era.  A dip into the Vintage Vogue collection from that year yields this classic nipped-in waist, full-skirted gown.  Typical of the era yet its shape has remained popular for eveningwear, prom dresses and bridalwear.
V9097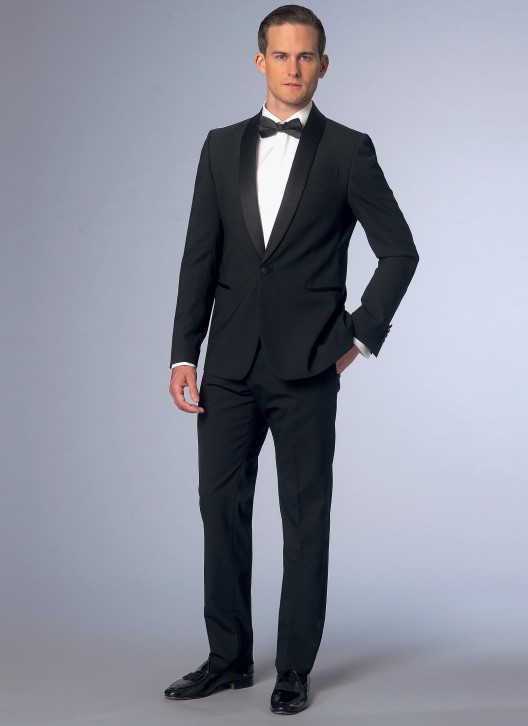 Vogue Pattern V9097.
And let's not forget your handsome escort.  This challenging shawl-collared tuxedo jacket and trouser pattern will turn your leading man into Ryan Gosling for the evening. The jacket has upper, lower and inside welt pockets, a two-piece sleeve, back and sleeve vents.  Whilst the tapered leg trouser gives an up-to-the-minute lean silhouette.  If only the bow tie was included…!