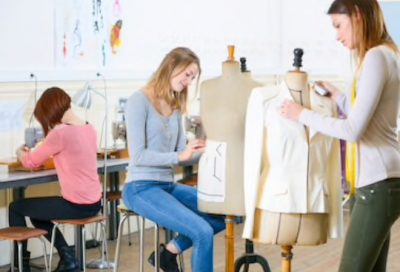 Wednesday 17/08/2022 - Friday 19/08/2022
10:00 am - 5:00 pm
Prices : £210.00
Book Now »
Summer School: Dressmaking Course
A 3-day Summer School Dressmaking course suitable for novice dressmakers or those wanting to improve their existing skills.
Wednesday 17- Friday 19 August 2022  10m – 5pm each day
Making your own clothes is extremely satisfying. You can obtain a perfect fit and have something completely unique, But it's difficult knowing where to start. Commercial paper pattern sizes bear no relation to shop-bought, and all those fabrics to choose from?  If you'd like to learn to make your own clothes, but are struggling to get started, then this short course will give you a great foundation. Or if you've already done some dressmaking, then learn tips and techniques to help you improve the finish.
You must already have competent sewing skills i.e. have completed a Beginners sewing course, be confident using a sewing machine and be able to thread up and wind bobbins, and to sew neat, accurate seams. If you're a bit rusty, then please consider one of my Beginners or Refresher classes to brush up first.
Course Description
Choose your own pattern and I'll guide you through interpreting the 'lingo'. How to choose your best size,  choosing the right fabric, cutting and sewing – all with help at hand.
While some other course providers are packing in up to 12 people per course, Artisan Stitch has a maximum of 5 places on this course.  Not only does this enable me to make your tuition more personal and individual, it's also more covid-safe too! The most exclusive sewing courses available!
Who is this aimed at:
Anyone who has recently started to sew and would like to make clothes
Novice dressmakers who would like some help to understand how to use commercial patterns, and improve your dressmaking skills
Lapsed sewists or improvers: perhaps it's been a while since you last did any dressmaking and you need to brush up your knowledge and skills, or you're keen to learn more.
What will I learn?
How to use commercial paper patterns and learn garment-construction techniques.
choosing the best size, and making some basic alterations for a good fit;
select suitable fabric and use it economically.
understanding the 'language' and markings on patterns
Fabric-cutting and marking techniques
sewing pieces together (garment-construction)
tips and tricks to obtain a professional-quality finish
Depending on your skill level and the complexity of the pattern you have chosen, there will be time to make at least 1 garment but you may be able to make more. There will be some structured tutorials over the 3 days with plenty practical time.
Total 18 hours. 
Course Arrangements
You'll need to bring your own pattern(s), the fabrics and all other materials such as zips, interfacing and threads to complete it.  I'll provide a note of what you'll need when you book. Sewing machines are available in the studio or you can bring your own if you prefer. (If you bring your own, then please remember the power cable/foot control, bobbins, presser feet, spare needles and the instruction manual)
You'll also need your basic sewing kit of : Fabric shears, scissors for cutting paper, pins, tape measure (cm) chalk pencils or fabric marking pens, note book.
Cost: £210.  You will need to provide your own fabric. I'll advise you what you'll need when you book.
Travel, meals and accommodation are not included.
There will be a break for lunch, and opportunities for short breaks throughout the day.
Useful links:
I'll be covering both of these topics in the course but you might want to have a wee read before then:
Making your mark – A guide to fabric marking tools
What pattern size am I? – how to choose the correct size
Where to buy fabric in Edinburgh:
Here's where you can buy sewing equipment: Hobbycrafts, The Range, Fabric Focus, Edinburgh Fabrics, Dunelm Mill, John Lewis. I have a small selection of quality fabric scissors, pins and marking tools for sale in the studio otherwise everything can be obtained from Amazon.
Location:
Studio 6.03A St Margaret's House, 151 London Road
Edinburgh
EH7 6AE
Bookings