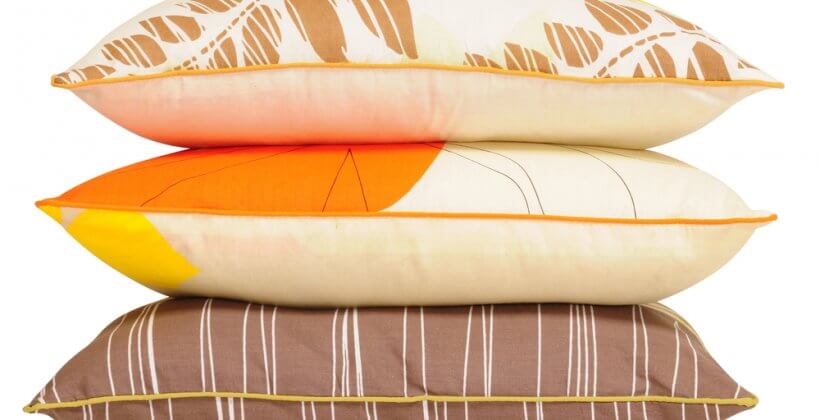 Friday 12/06/2020
10:00 am - 4:00 pm
Book Now »
The cushions zips & piping workshop shows you how to make gorgeous and unique soft furnishings.
Level:
Level: Intermediate (confident sewing skills required)
Course description
cushions-zips-piping
Shop-bought cushions can be expensive but why pay out when they are actually quite easy to make. Learn how to make professional looking cushions with zips and piping to match your furnishings and you'll never need to buy a cushion again.
What's covered:
Design of a cushion:  we'll look at a variety of decorative details such as piping, frills and flanges.
Measuring and cutting fabric, taking pattern placement and matching into account.
Piping is covered in bias binding so the workshop will include how to make your own bias-binding too.
Sewing in a zip – a foundation sewing skill.
Then you'll complete your cushion cover.
Who is this aimed at?
Intermediate sewists.  You need to have confident sewing machine skills.
What will I learn?
This workshop will cover:
consideration of the design
pattern-placement and matching, if required
measuring & cutting fabric
making bias binding
adding the piping
inserting a zip (standard lapped-style zip)
completing the cushion
Course arrangements
Fabric will be provided so you have a chance to practice and learn the skills.  Then you'll be able to make your own cushion at home using whatever fabric you wish.  You can bring your own sewing machine or let me know when you book  if you need me to prepare one for you to use in the studio. If you are bringing your own, then you'll need the accessories (presser feet), bobbins, instruction manual, and please check that you have your power cable/foot control. You will need a zip foot.  If you have some Singer models or a Janome machine, then due to the design of the zip foot for these models, you'll also need a separate piping foot. Please ask if you have any questions about this.
Tags:
add a zip in a cushion
,
cushion-making workshop
,
cushions zips and piping
,
home sewing
,
how to make a piped-edge cushion
,
how to make bias binding
,
how to sew a cushion
,
how to sew in a zip
,
how to sew piping
,
make a cushion
,
piped cushions
,
Sewing class edinburgh
,
sewing piping
,
sewing workshop Edinburgh
,
soft furnishings
,
unique soft furnishings
Location:
Studio 6.03A St Margaret's House, 151 London Road
Edinburgh
EH7 6AE
Bookings