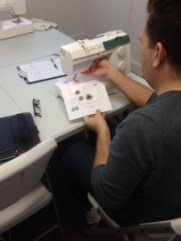 Thanks to all those who came along to the Open Studio event on Saturday.
It was a very popular day and lots of new faces visited Cockenzie House and Gardens to see everything that goes on within. We have artists, furniture upcyclers, glass and jewellery, textile artists, health practitioners and musicians all opening their doors and demonstrating their various skills. Several people were brave enough to take my 'Sewing Machine Driving Test' which provided much amusement but everybody passed and there were no stitched fingers thankfully! Possibly due to the exposure given to sewing by 'The Great British Sewing Bee', it was pleasing to see a few chaps taking an interest too.
There was lots of interest in my recently released programme of sewing classes and Textile Art workshops for June and July, just in time for the summer holidays. Why not come along to learn to sew for the first time or improve your skills in 'Couture Techniques' or 'Patterncutting' and have a fun and sociable day with existing or new friends.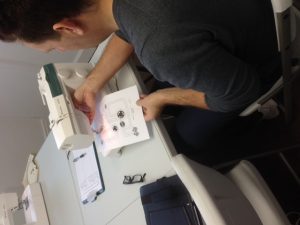 Danny taking his Sewing Machine Driving Test