When it was time to buy a new overlocker for the studio, there was only one place I was going to go. And that of course was Pembertons, my trusted specialist supplier for almost 30 years. So after considering my requirements: Andrew recommended the Juki MO-644D.  I then spent a fun 90 mins putting it through its paces.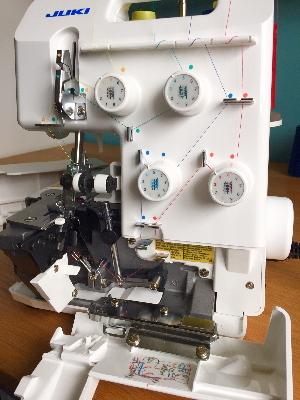 It's such an easy machine to use, and is robust enough to be suitable for use in dressmaking classes. I also use it to demonstrate techniques during the 'Know Your Overlocker' class. So here's the lowdown:
About JUKI
Juki are well-known as specialists in the industrial sewing machine market. But actually, they started in 1947 making home sewing machines.  In 1953 they moved into machines for the garment-manufacturing industry,  where they quickly gained a world-renowned reputation for innovative technology and superior quality.  They adopted their industrial technology for their domestic sewing machines and overlockers and are one of the leading producers of top quality machines for home use.
Juki MO-644D overlocker – Technical specification:
Stitch capability:    can sew 4, 3 or 2* thread seams and edging (*requires a converter which is an optional extra to the MO-644D but comes included with the MO-654DE)
Needles:  takes standard system 130/705H common to domestic sewing machines
Stitch length:  range from 1-4mm
Stitch/cutting width:  range from 2-6mm
Differential Feed: Ratio from 0.7 to 2.0 for better stitching of jersey knit fabric
Presser foot:  5mm lift with additional manual lift
Adjustable pressure on foot: yes
Power:  105w
Speed:  up to 1500 stitches per minute
Dimensions: 270 (w) x 345 (d) x 295 (h)
Weight: 7kg (15lb)
Retail price: £399
Features of the Juki MO-644D Overlocker
What I love:
Easy to follow colour-coded thread guides – Getting the threading wrong is actually quite difficult with this machine.  Every point in each threading path is coloured. The order of threading is shown in a numbered diagram on the inside cover.
Built-in automatic rolled hem – Converts to rolled hem function with a flick of a lever to retract the stitch finger.  With some other makes, you need to perform a complicated process involving retraction of the knife or fit a separate piece.
Easy tension adjustment – Rotation-type thread tension dials with the normal range of tensions highlighted for simple, consistent tension adjustment.
Bright LED Light – Provides maximum light to the needle and operating area.  The LED bulb never gets hot.
Easy to Adjust Stitch length – The stitch length is adjusted by means of a black dial inside the side cover. (The MO-654DE model has a stitch length adjustment knob more conveniently located on the outer right side of the machine.)
Differential Feed – A common feature of modern overlockers is the capability to control front and rear feed separately. This enables even feeding of unstable fabric such as jersey knit. It also enables you to create a  gathering or texture effect on lightweight fabrics.
Multi-purpose foot – The standard foot enables the usual overlocker functions plus it will allow tape, elastic, ribbon or sequins to be incorporated.  The feet are changed with an easy clip-on system. There are 8 optional extra feet available.
Seam precision – The handy seam guide marked on the guard cover enables accurate stitching of any width of seam allowance or edge-neatening.
What I don't like:
Cutting-width adjustment – The cutting width adjuster dial is inside the left side cover of the machine.  This is perhaps the only downside of this model as it's slightly fiddly to use.  But this is a minor point. There's a good range of widths from 2mm rolled hems to 6mm seams.
Summary
As you'd expect with its industrial technology, the Juki MO-644D overlocker is robust enough to tackle everything I could throw at it. At 7kg, it's a fairly standard weight for domestic machines. There is no vibration and it's smooth and quiet to use. The compact size of the MO-644D means it's easy to transport, fitting neatly into a standard sewing machine trolley.
Since its arrival in the studio, my Juki has been popular with the students.  The dressmaking classes are able to use it, and I use it to introduce overlockers to the Beginners who perhaps haven't seen one before.  Would I recommend it? Most definitely!
Se my other blog about for tips on achieving perfect tension on an overlocker and watch my Overlocker Overview on You-tube.
Alternatively, you may want to consider the MO-654DE. This model comes complete with the 2-thread converter, and a spare lower knife. The heavy duty knife system enables clean and even cutting of light to heavyweight fabrics. The stitch length and differential feed control dials are located on the right exterior of the machine. Perhaps its biggest advantage over the 644D is the lever which moves the lower looper for easier threading. Retail price £499.
*Offer* (Current at May 2020)
Pembertons are my recommended specialist supplier and many of my students have bought machines there. As a result, Andrew has kindly offered special terms to anyone buying any machine as a result of my recommendation. Just mention Artisan Stitch, and he'll throw in some extra goodies!  (Free next-day delivery (if in stock) to mainland UK. There's also an interest-free payment plan.
Links:
Pembertons sewing machine centre
Testimonials:
Here's what other satisfied customers have said about their Juki:
"Thanks for your help with my overlocker.  I will be phoning your recommended stockist. I think I may burst with excitement."
Then later:  "It has arrived.  I could see the difference in build quality straight away.  I ran it and it is oh so quiet"     (Clare S.)
Hi Jen, I just wanted to say thank you for your help on the GBSB page.  I received my Juki overlocker and coverstitch today, both from Pembertons. Can't wait to get started now. (Julie A.)