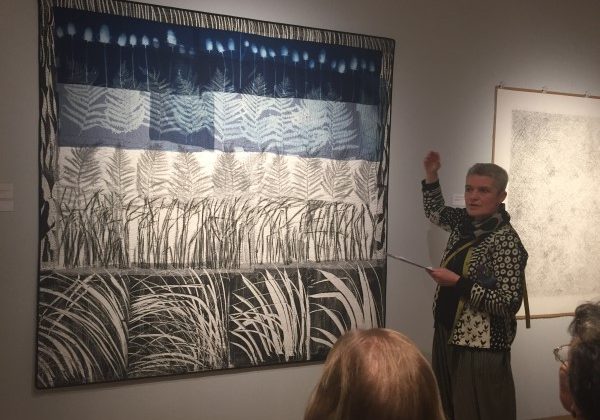 Songs for Winter
At: City Art Centre, Market Street Edinburgh  until 4 March 2018
Wed-Sat 10am-5pm, Sun 12 noon-5pm.  Free entry
I was lucky enough recently  to be invited to a viewing of 'Songs for Winter' being hosted by the artist Pauline Burbidge herself.
The special viewing was organised by Thistle Quilters, and limited places were offered to Embroiderers Guild and EDGE Textile Artist members. So I obviously jumped at the opportunity.  .  It was insightful and inspiring to listen to Pauline talking about her techniques and working processes, and to have the opportunity to ask questions.
Art Quilts
To me, like many people, the word 'quilting' conjures up images of paper hexagons, traditional patterns and perfect mitred corners. Times are a-changing though, and quilting, like all forms of textile craft and embroidery, has moved on.  A 'quilt' is simply two layers of fabric with a filling, so anything with a front, a back and a middle is a quilt.  But there it stops.  No more are hours spent meticulously cutting paper pieces and painstakingly stitching fabric around them.
Inspirations
Many of Pauline's sketchbooks are also on exhibit and show her abundant drawings of the cultivated and natural plants in her immediate environment. The drawings are loose and fluid.  Her common materials are Markal Sticks (chunky oil pastels that become fixed on fabric). Sometimes the artist stitches first, then paint or draws on top.  This leaves a different type of mark, as the colour touches only the high points, leaving a mottled, broken effect. Monotone colour palettes allow the beauty and simplicity of the sketches to be appreciated. The vivid blue cyanotype prints contrasted all the more dramatically, providing the only colour in this phase of work. The artist prints on fine silk or cotton organza, enabling layers of the blue to build up.  Hand stitching introduces the blue to others areas, providing a balanced composition.
Techniques used
Pauline patched and pieced or appliqued her early quilts. But her later works are much more free.  She now often draws directly onto a single piece of fabric.  Some are composed of layers of sheer fabrics, built up to intensify the colour, or create cross-patterning.  She stitches free-hand using a long-arm quilting machine.   Pauline intends that some of the pieces be used as bedding and binds them in the traditional way. She ensures these are washable.  Others however, are wallhangings; strictly to be looked at and admired.  Like the stunning 'Applecross' in the Gallery foyer for instance.  Having a sneaky look up close, I noticed this wasn't bound. I could see the cotton batting sandwiched between the front and backing. Just a painted border and some clever stitching gave the effect of binding.
To find out how to do monoprinting, and how it can inspire embroidery, then why not take a Monoprinting workshop?
Charles Poulson
Similarly, Charlie's large drawings are mainly in neutral-tone gouche, pencil and wax, but he allows himself some colour occasionally.  They express the energy of the growing plants under the soil. It's quite striking how easily these would translate into quilts themselves.  His sculptures in wood, wax, paper and lead also reflect organic living forms.  I first saw Charlie's sculpture work while visiting their home in Allenbank Mill Steading during last summer's Open Studio weekend.  He dots them around their expansive garden as if they'd grown there: how easily they integrated into the landscape.
The exhibition is on until 4 March so make every effort to get there.  There is also another exhibition of work from this talented couple running concurrently at Royal Botanic Garden.
Pauline and Charlie's next Open Studio weekend is 3-6th August 2018, 11am-6pm each day.
Links: