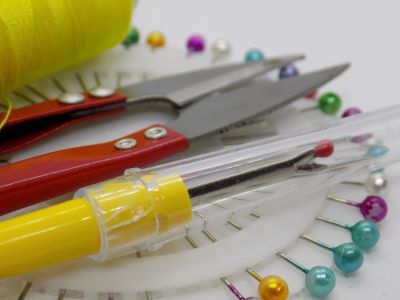 Saturday 31/10/2020
10:00 am - 4:00 pm
Book Now »
Improve your dressmaking
Does your home sewing look a bit – well – 'homemade'?Do wonky zips, poor fit, wrinkled seams and gaping necklines spoil the appearance of your home-sewn clothes? Then learn my tips and tricks to improve your dressmaking in just a few hours! If you have ever struggled with any of these techniques, and want to transform your 'makes' from 'homemade' to 'handmade, then this course will raise your dressmaking game.
Course description
There are many techniques that I see home dressmakers struggling with time after time. When you attend a normal Dressmaking course, much of the time is taken up with laborious cutting out and sewing up of one specific garment, so you're only learning the methods required in that one item.
So I've rolled up all my favourite tricky techniques into one package, and called it 'Improve Your Dressmaking'.  During the course of the day,  you'll make small samples of each technique. We can really focus on getting the technique right in just a fraction of the time it would take to make a whole garment. Plus you'll have a whole bunch of notes and samples to refer back to when you next tackle the real thing: without the hassle and expense of making an entire garment.
What will I learn?
– how to choose the best size of pattern
-understand pattern terminology and markings
-get facings to lie flat without puckering
-how to add a waistband
-what is understitching and when should you use it
-when and why you need to trim, clip, and notch seam allowances
-what does 'stitch in the ditch' mean, and when to do it.
-edgestitching and topstitching to create impact
-how to insert a concealed zip, and lots more…
Who is Improve your Dressmaking aimed at?
Level: Improvers – anyone who'd like to achieve a more professional finish to their sewing projects. You must have some dressmaking experience.
Course requirements:
All fabrics are provided.
Sewing machines are available in the studio provided or you can bring your own if you prefer. If you are using your own, then please remember the power cable/foot control, bobbins, spare needles, presser feet and the instruction manual.
You'll also need your basic sewing kit of:  fabric shears, paper scissors and small trimming scissors, tape measure (cm), chalk pencils or marking pens, pins, notebook.
If you have any sewing problems other than those mentioned above, then please let me know in advance and I'll try to cover them during the day if there's time.
Duration: 10am – 4pm. There will be a break for lunch
Useful links:
Making your mark – a guide to fabric-marking tools
Get to the point – how to choose the correct sewing machine needles
Tags:
better dressmaking
,
common dressmaking errors
,
dressmaking east lothian
,
dressmaking for beginners
,
dressmaking midlothian
,
dressmaking refresher course
,
dressmaking tips
,
how to make clothes
,
how to sew
,
improve
,
improve your dressmaking
,
sewing classes east lothian
,
sewing classes edinburgh
,
sewing classes lothians
,
sewing lessons east lothian
Location:
Studio 6.03A St Margaret's House, 151 London Road
Edinburgh
EH7 6AE
Bookings
Bookings are closed for this event.