Using the correct sewing machine needles is important to achieve a successful outcome to your sewing project. Sewing Machine needles come in an assortment of types and sizes. The wrong needle can cause issues such broken needles or threads, uneven or skipped stitches, and snags or holes in the fabric. You should choose your needle firstly according to the fabric construction, then the fabric

Basic Types of Sewing Machine Needles
General purpose universal
Use these for normal sewing of a wide range of fabrics in most weights. Select the correct size according to the fabric weight.
Ballpoint/stretch
Use ballpoint needles for sewing jersey/knit fabrics, and stretch for extremely stretchy fabrics such as elastic and lycra. The point is slightly rounded which forces the fibres apart instead of puncturing them. Always use ballpoint needles when sewing jersey knit fabric (T-shirt type fabric) to avoid skipped stitches and holes in the fabric. These needles can be used on woven fabrics too, but not the other way around.
Twin/Triple
These are for decorative stitching such as heirloom. Available in different widths, this needle has either 2 or 3 separate needles attached to a bar and creates pintuck effects and tiny channels on the fabric. You can also get these with a ballpoint which can be used to recreate the double stitched hem on T-shirts. Looks so professional!  In manufacturing, these hems are done on a 'Cover Stitch' industrial machine, but using a twin needle is the closest we can get in a domestic setting.
Leather
For sewing leather, and faux leather/vinyl. This needle has a flat 'chisel'-shaped tip which cuts a tiny slit instead of making a hole.  This prevents the fabric tearing.  These needles must not be used on woven or knit fabrics.
Speciality needles
Available in varieties labelled denim, embroidery, metallic,  topstitch, wing. Denim needles are very strong and can cope with several layers of closely woven fabrics such as denim, canvas and cotton duck. Embroidery needles have a larger eye to prevent shredding the thread when stitching densely at high speed.  Metallic needles have a large eye to prevent shredding of delicate metallic embroidery threads and usually a Teflon coating which makes them extra 'wearproof'. Topstitch needles have a very large eye and extra large groove to accommodate heavy topstitch thread (buttonhole twist) or 2 strands of ordinary thread.
I did always use the appropriate Embroidery or Metallic needles when using rayon or metallic embroidery threads but recently I discovered that Topstitch needles are excellent.  The extra large eye protects even the most delicate thread from shredding, so they are now my 'go to' needle for machine embroidery. Wing needles have a wide 'flange' on either side of the shaft to produce a decorative hole during Heirloom sewing.
Shown Left to Right: Universal/Standard needle, Ball point, Leather, Twin, Wing
Most modern domestic sewing machines will all take one system of needle and that's 130/705H.  This is fairly standard across all manufacturers, whether your machine is Singer, Brother, Pfaff, Janome, Husqvarna, Bernina, Elna or any of the other makes. So you don't have to buy a packet of needles that are branded with your specific make of machine (much as they want you to because 'branded' needles are usually more expensive than a generic packet).
Schmetz are a very good brand and produce lots of speciality needles but they are pricey. 'Klasse' are readily available in most hobby stores and fabric shops.  Expect to pay around £2.50-£3 for a packet of 5 needles but speciality needles will be more (up to £3 for one twin needle). Don't buy really cheap needles from the supermarket i.e. £1 per packet.  It's a false economy and will only lead to a frustrating sewing session. I tried them once and they were all broken within the day.
Sewing Machine Needle Sizes
So you've chosen the right type of needle, no you also need to use the correct size for the fabric weight. Needles are available in many sizes from 60/8 with the largest size of needle being 120/20.The mid-range is 80/12 or 90/14. The first, larger number is the metric sizing and refers to the diameter of the shaft of the needle. So a size '80' is 0.8mm. The second smaller number i.e. 12 is the old imperial measurement. What's easy to remember is that the bigger the number, the bigger the needle.
Use size 60-75 for fine voiles and organza, a mid-range 80 or 90 for medium-weight fabrics such as craft cotton, polycotton and cotton sateen. A 100-120 is for heavy wools, denim, cotton duck and upholstery-weight. Most general haberdashery shops will usually only stock from around 75 to 100. You may have to try a sewing machine dealer or an online supplier for the needle sizes at the extreme ends of this scale. Use a needle that's too fine and it'll bend or break often; use too thick a needle and you risk damaging the fabric by making bigger holes than is necessary.
The Anatomy of Sewing Machine Needles
Make sure the needle is correctly inserted and is screwed in tightly. The wider part of the needle at the top is the shank, and is flat at the back. This should be facing to the back when inserted into the machine. The shaft is the main 'stem' of the needle. Look closely and you'll see a groove running down the front towards the eye. The thread sits in this groove and is protected from wear when passing through the fabric. The thread should pass through the eye from front to back. An incorrectly fitted needle could shatter and not only damage your machine, but may also hit you in the eye. If you do break a needle, check that you have all the bits and that no pieces are lodged anywhere in the bobbin cavity as they can cause serious damage to the machine's insides.
Check your needle often and change it if it's bent or damaged at the point ( if you hit a pin). You'll be able to feel any 'burrs' on the tip. A damaged needle can damage the fabric and result in poor quality stitching. A bent needle could rub against the bobbin case or other internal parts and could even cause irreparable damage to your machine.
How often should I change my sewing machine needles?
Finally, the crucial question. The answer? After every sewing project (or about 6-8 hours of sewing).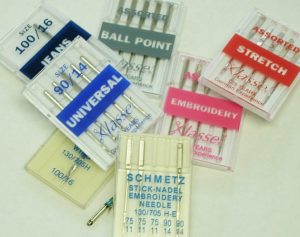 A selection of sewing machine needles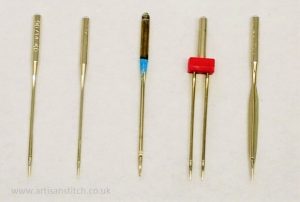 Close detail of various sewing machine needles