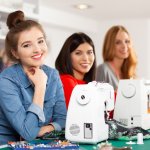 Saturday 20/11/2021
10:00 am - 4:00 pm
Booking is currently closed
Prices : £90.00
Beginners Sewing Day – parent & child
The Beginners Sewing Day – parent & child is a quick and easy introduction to sewing.  It's also a lovely opportunity to learn to sew together. Learn how to use a sewing machine and gain some basic sewing skills.  Then make a lined reversible tote bag.
All adults must be accompanied by a child aged 8 or over. 
Level: Beginners (adults and children). This is a lovely class for parents to accompany their children (all genders welcome) and learn to sew together.  Price shown is for one pair (1 adult and 1 child = 1 place) and includes all fabrics.  
You'll learn how to understand sewing machines, wind bobbins, and thread it up. You'll learn how to make simple seams, measure and cut fabric.
Then there's an easy sewing project to make so you can practice your new skills.
What will we learn?
How to use a sewing machine safely and confidently
How to wind bobbins and thread up the machine
How to sew perfect straight lines, smooth curves and turn corners
Make an easy sewing project. This reversible fold-up tote makes a great bag for shopping or for gym or ballet kit.
Fabric and sewing equipment is provided.
Artisan Stitch holds a Certificate of Excellence for Best Sewing classes in Edinburgh 2019, and won a UK Enterprise Award for Best Sewing Classes 2020, then the UK Enterprise Award for  Best Private Sewing Education and Tuition in 2021.
Sewing machines are provided or you can bring your own if you have one. But if you are considering buying one, then I'm happy to give advice on what to look for. I recommend Pembertons, the specialist sewing machine dealer.
Duration: 10am-4pm (There will be a break for lunch)
Useful links:
My blog contains lots of information on sewing for beginners so do spend a few minutes having a read.
Learning to sew: Read these 5 top tips!
Location:
Studio 6.03A St Margaret's House, 151 London Road
Edinburgh
EH7 6AE
Bookings
This event is fully booked.