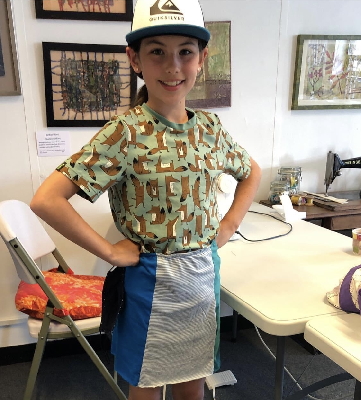 Friday 22/07/2022
1:30 pm - 4:30 pm
Prices : £35.00
Book Now »
Kids sewing – T-shirt skirt
This Kids' sewing – T-shirt skirt class is an exciting upcycling project for children aged 11-15 to sew. They must have completed the introductory 'kids learn to sew' class or have previous sewing machine experience.
Class Description
This sewing class for children will give them more useful practice.  It covers basic sewing techniques such as cutting fabric, making seams and hems. Plus it teaches useful upcycling 'make do and mend' skills. We'll be making a fabulous, fashionable skirt from T-shirts. Please supply 2 (or more) old t-shirts (Adult's or child's, but freshly-laundered) Two is the minimum number required but additional shirts can be used for different colours in each panel.
Sewing is an ideal activity for children. It stimulates their creativity while enabling mental and physical development.  Crafts such as sewing encouraging focus and concentration, whilst giving a sense of achievement and self-worth.
Level: Some basic sewing machine experience is required. Children must have previously completed my 'Kids Learn to sew class' before taking this class. Suitable for 11-15 year olds.
Artisan Stitch holds a Certificate of Excellence and is rated provider of 'Best sewing classes in Edinburgh'.
Winner of the UK Enterprise for Best sewing classes in 2020.
Winner of 'Best Private sewing education & training provider – Scotland 2021.
Jen has over 40 years sewing experience and 20 years in a teaching & training role.
Class arrangements:
sewing machines and all equipment are provided
you must supply 2 T-shirts (any size, freshly-laundered. Don't worry about small holes or stains)
I'm insured and hold a Disclosure Scotland certificate
Useful links:
Alfa Practik 9 – a fantastic-value, robust and versatile sewing machine for new sewists of all ages
Pembertons – my trusted retailer of sewing machines and related accessories
Location:
Studio 6.03A St Margaret's House, 151 London Road
Edinburgh
EH7 6AE
Bookings