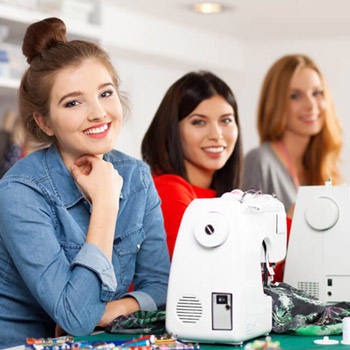 Bookings
Beginners Intensive Sewing Course: Learn to sew like a pro in 3 days!
The Beginners Intensive Sewing Course is always a popular event in the Summer School calendar. It's unique to the range of Edinburgh sewing classes available. It will teach you all the foundation skills to launch you into the world of sewing.  If you're looking for the best starting point to learn expert sewing techniques whether you want to progress into dressmaking, soft furnishing or craft projects, then this is it.
Thursday 25 – Sat 27 Jan 2024        10am- 5pm each day
Adults only (aged 16 years +)
Course Description
Please read the entire course description and all the other information given on this page and check here before booking. Once purchased, tickets are non-refundable. Ensure you have entered your information correctly. You will receive an automatic booking confirmation e-mail giving the dates and times of your class(es).  You should save this e-mail and add the event to your phone's calendar.
Starting at the very beginning with how to use a sewing machine, each session expands on the skills learnt in the previous one, building your knowledge, technical ability and confidence over the three days (18 hours in total). You'll learn how to understand sewing machines and be competent and confident in using one. I'll explain what the different presser feet are for and you'll learn how to handle, measure and cut a variety of fabrics, interfacing, interlining, and tackle common fastenings such as buttons, zips and velcro.
The course is composed of a series of tutorials, each followed by a lovely project. So you can practise the skills learnt in that session.
I've been sewing since I was a child (and that's a lot of years' experience!). During that time, I've made every mistake in the book – then learned how to avoid them. Now you can benefit from my mistakes and learn to sew like a pro as I share my expert tips. I wish I'd known all this stuff when I started to sew.
Artisan Stitch won a Certificate of Excellence in January 2019 and is rated 'Best sewing classes in Edinburgh'. They won a UK Enterprise award for Best sewing classes 2020 and in 2021, Best Private Sewing Education, Most Outstanding Sewing Classes, and also Best Creative Workshops in 2022/23, and Best Craft Course Provider in 2023/24.
Who is this aimed at?
Absolute Beginners (if you've never used a sewing machine before)
Novice sewists (if you've recently learned and would like to fill in some gaps and learn a bit more)
Lapsed sewists (as a refresher course if you haven't sewn for a while)
(Adults only (16 years +)  children's classes are listed in the 'Kids' section of the website
What will I learn?
How to use a sewing machine safely and confidently
How to wind bobbins and how to thread a sewing machine
how to sew perfect straight lines, smooth curves and turn corners
understand the importance of correct thread tension
different stitch types, lengths and widths
learn different seam types and when to use them
how to deal with raw edges
how to take up hems
make machined buttonholes and sew on buttons
how to sew in a zip
four great sewing projects to practice your new skills:

a tote bag,
An envelope cushion with buttons
padded I-pad/tablet cover
a zipped make-up bag
Course arrangements
Sewing machines are provided or you can bring your own if you have one. Remember to bring your power cable/foot control, instruction booklet, accessories (presser feet) and spare bobbins.
There will be a break for lunch each day and opportunities for short breaks throughout the day.  Meals, travel and accommodation are not included.
Useful links:
If you're looking for a sewing machine, then Pembertons  are my trusted and recommended specialist retailer. And what's more, they'll sort out a special deal for Artisan Stitch clients.
What sewing equipment will I need?
(I have a small stock of quality scissors and marking tools for sale in the studio)