Paper fabric. Is it paper? or is it fabric? How to use non-conventional materials in creative embroidery.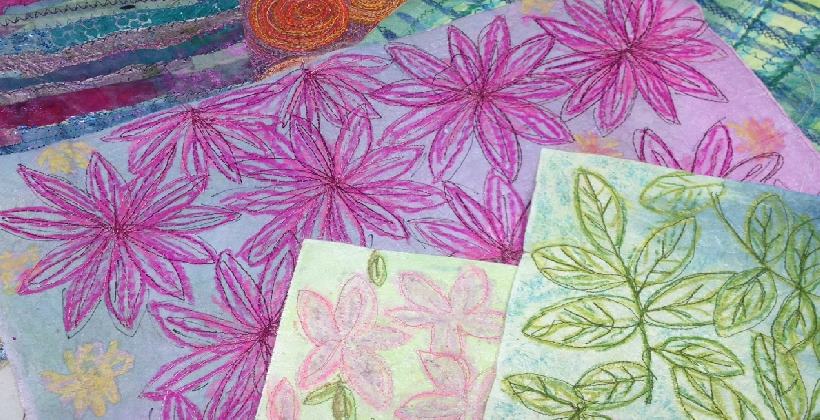 Level:
Improvers onwards (Basic Sewing Machine skills required but you will get the most enjoyment from this workshop if you can already do free-motion machine embroidery)
When can I book?
Oops, you've just missed this. Check again soon for more dates.
Course description
Paper Fabric is a fun textile workshop to show you how to create stunning stitched surfaces using paper and other non-conventional materials. Not everything you stitch on needs to be fabric. Contemporary embroidery has banished all the traditional methods and constrictions about what you can and can't do. I often include substances such as paper, plastic and metal in my mixed-media textile art. The aim of this creative embroidery class is to show you how to perform alchemy and create unique embroidered textiles from ordinary printer paper, newspapers and magazines.
Who is this aimed at?
Embroiderers, budding textile artists and quilters who are looking for something a bit different.
What's included in Paper fabric?
We will:
create two or three designs by colouring plain white paper
use magazines and newspapers for further designs
learn bonding and laminating techniques to strengthen them for stitching
embroider our paper fabric using ordinary utility stitches on a sewing machine, or free motion embroidery
make a cover for a hard-backed notebook and discuss other ways to use our new 'fabrics' in textile art.
Course arrangements
No drawing skills are required, but we will be using pastels and paint to colour the paper so you may want to bring an apron to protect your clothes. I'll let you know what to bring once you've booked. Sewing machines are provided.
If you prefer to bring your own machine, you will need a darning foot suitable for the make and model of your machine. Please also remember to bring bobbins and the power cable/foot control.
You could also use hand embroidery to embellish your creative textiles so you'll need a basic embroidery kit of needles, hand embroidery cottons or other threads and yarns, and a pair of small embroidery scissors.
You can also bring a hard-backed diary or notebook if you want to make a cover for it. I have some A6 spiral-bound books for sale at £2.50 each.
If you're interested in this workshop, then you may also enjoy Monoprinting for Stitch.
Sherrill Kahn is a mixed-media artist who uses paper extensively in her collage work.