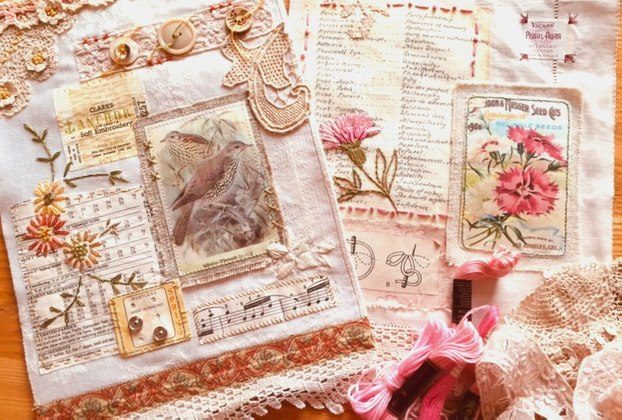 Friday 18/09/2020
10:00 am - 4:00 pm
Book Now »
Vintage Embroidery – Hand embroider a vintage-style collage inspired by household linens and re-create nostalgic memories
Course description
Vintage embroidery is a textile art workshop that will show you ways to use Granny's embroidered table linen,  (or those lace doilies you picked up at the charity shop). You'll create a lovely hanging to show off treasured family heirlooms or just to recreate fond memories of childhood.
We'll create a collage, taking inspiration from the classic motifs found on tablecloths, tea trays,  and other hand-embroidered items.  You can also incorporate secondary inspirations such as vintage books that interest you, whether it's dressmaking, birds, flowers, recipes or family memories.
You will stitch these source materials together onto your chosen background and decorate it using simple hand embroidery stitches to create a highly-personal piece of work.
Who is Vintage Embroidery aimed at?
Anyone with an interest in the vintage genre. Or perhaps you'd like to remember a loved-one and incorporate a piece of their clothing and a photograph. This makes an individual alternative to a memory bear.
What will I learn?
some basic hand embroidery stitches
how to design and arranging a collage
bonding paper and fabrics
methods of embellishment
Level: no experience required.
Course arrangements
You will need to bring some pieces of vintage fabrics or table linen which can be used as a background,  You'll also need a collection of lace, haberdashery, (buttons, lace strips, cards of hooks & eyes, ribbon), magazine cuttings, book pages, old family photos or other personal mementoes to embellish your hanging. I'll show you how to arrange and fix your components to the background, ready for embellishment with hand embroidery.
Think about telling a story:  you'll need anything that enhances the story. e.g. 'Baking day with Mum'.  You'd need a copy of an old, favourite recipe you used as a child.  If it's got jam stains on, then so much the better. Perhaps vintage adverts for the flour, or a piece of Mum's baking apron, and a small measuring spoon. You could use an old tea cloth as the background and hang it using a wooden spoon?
Here are a few more suggestions for nostalgic  topics:
a family holiday at the seaside – photos, travel tickets, maps, admission tickets for museums or funfairs, a postcard, pebbles or shells gathered from the beach
afternoon tea at Granny's  – a piece of tablecloth or tea tray, her cherry cake recipe (handwritten in copperplate of course), a photo of Granny, a jam label. Embellishment may include embroidering the design from a china tea set.
Pinterest is a good resource to find copyright-free vintage images (but please make sure they are copyright-free)
I'll send you a full note of requirements once you've booked, with further suggestions for ideas and resources.
I would suggest about A4 is a good size for the background if you'd like to complete it at the workshop.There are no photocopying or printing facilities in the studio so you'll have to bring all the printed material you'll need in a suitable size to use on your hanging.
Useful links:
Borders scrap store – branches in Musselburgh and Selkirk, these are an invaluable source of vintage linens, lace and embroidery references.  They also stock embroidery threads, yarns, buttons, beads etc for embellishing your collage.
Location:
Studio 6.03A St Margaret's House, 151 London Road
Edinburgh
EH7 6AE
Bookings
Bookings are closed for this event.