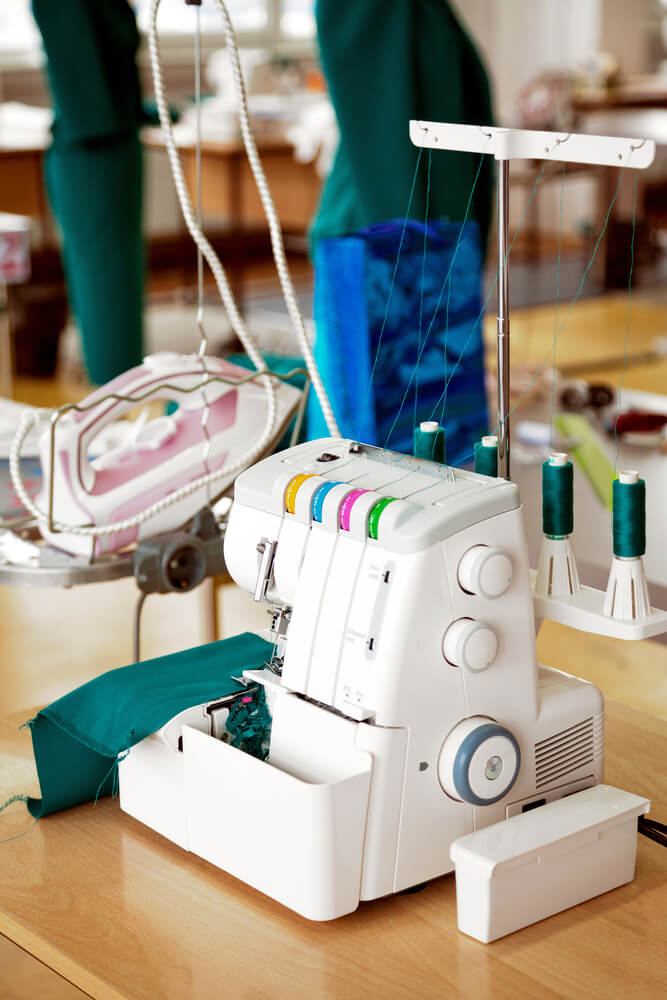 Thursday 04/02/2021
6:30 pm - 9:00 pm
Book Now »
This 'Know Your Overlocker' online workshop will help you get the best from your Overlocker.
Learn how to thread your overlocker, understand tension, and find out how to use it to its full potential. This class will revolutionise your sewing.
Course description
Overlockers are amazing machines that can stitch, trim and neaten seams all in one operation as well as hem garments and add decorative finishes. Yet so few owners fully understand them or use them to their full potential. Most people who have overlockers only use them for neatening edges but they can do so much more.
Other functions include sewing in elastic and lace, creating decorative seams on sports and casualwear, rolled hems on evening wear, and making home furnishings. Not to mention being able to sew up jersey fabrics quicker and more neatly than your normal domestic sewing machine.
But overlockers are more complicated than normal sewing machines. They're more difficult to learn to use 'out the box' and need a whole new set of skills.  So I'll teach you to understand how the tension settings affect the stitch type and quality,. Also how to recognise and obtain correct tension. We'll also look at different stitch functions and their applications. So you really do get to know your overlocker and discover just how versatile they are.
Who is this aimed at?
anyone who owns an overlocker and is scared to take it out the box
anyone who doesn't know how to obtain the correct tension for a project
anyone who would like to use their overlocker for more than just neatening edges
you should have experience of sewing machines and basic dressmaking.
What will I learn?
Know your overlocker online will show you:
what all the parts do
how to thread it* and obtain the correct tension
how its use integrates with your sewing machine (when to sew, when to overlock)
sewing woven & knitted fabrics
basic edging and seaming operations using 3 & 4 threads
dealing with corners
flatlock and blind hemming
rolled hems
(*within the limitations of an online facility)
What you'll need:
a 4-thread overlocker,
your instruction manual, accessories and tools (the screwdriver/allen key, long-nosed tweezers, spare needles)
threads in 4 different colours (ideally the primary colours used on the machine threading path)
 samples of a variety of fabrics: mainly mid-weight woven cottons, but also heavyweight (denim or furnishing fabric), jersey knit such as an old T-shirt, and silky polyester, organza or fine crepe such as an old scarf or evening blouse. Please cut your fabric into pieces approx 5″ x 12″.
small scissors or thread snips, a notebook & pen
you'll need to have a web-capable camera to view the course but also able to be focused on your machine (if you're needing to show me something)
Artisan Stitch holds a Certificate of Excellence, is rated Best Sewing Classes in Edinburgh 2019, and won a UK Enterprise award for Best sewing classes 2020.
Useful links:
If you're considering buying an overlocker, then I recommend the specialist retailer, Pembertons Sewing Machine Centre
Here's my reviews of the Juki MO-644D Overlocker and the Singer Overlocker 14SH754.
Location:
Map Unavailable
Bookings
This event is fully booked.