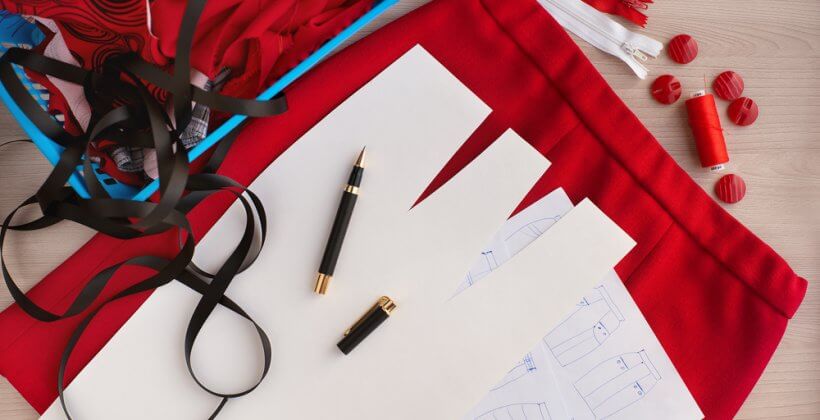 Thursday 28/04/2022 - Thursday 02/06/2022
1:30 pm - 3:30 pm
Booking is currently closed
Prices : £130.00
Intro to Pattern cutting
A 6-week course to introduce you to the principles and practices of pattern cutting.
Course Description
Level:  Advanced.  You must have considerable knowledge of standard pattern notations and garment-construction techniques gained from working with commercial paper patterns.
Being able to make your own patterns is a useful skill to have. You'll always be able to make a pattern for the style of garment you'd like, and it will fit perfectly. It also helps you understand how to alter and adapt commercial paper patterns and to create copies of your favourite items. This course running over 6 weeks is an excellent introduction to pattern cutting and will give you the foundation skills to be able to design your own skirt patterns. It will also cover how to make tops, and cover techniques for sleeves and collars too.
The course is composed of a series of tutorials, followed by practical sessions so you can practise the skills learnt in that section. Starting at the very beginning with an introduction to the concept of ease and techniques of fitting flat fabric around the curves of a body, the lessons will build your knowledge and technical ability over the course.
Artisan Stitch won a Certificate of Excellence in January 2019 and is rated 'Best sewing classes in Edinburgh'. Winner of the UK Enterprise award for Best sewing classes 2020. Artisan Stitch is the only course provider in Edinburgh, and one of only two in Scotland who are recommended by Queen Margaret University.
What will I learn?
You'll learn how to draft a basic skirt block to your personal measurements. Then how to manipulate it to add various style features such as panels/gores, pleats, flare, yokes and waistbands. You'll create a personal toile, fit it and turn it into a completed skirt pattern of your own design.
We'll look at the pattern markings necessary to communicate the design features.  Write your construction process so you  produce a professional-quality pattern.
We'll also look at the various types of bodice blocks. How to choose the most suitable one to draft your desired bodice pattern. Learn how to create original designs by manipulating bust and waist darts. How to draft sleeves and collars.
Why take this course?
Are you dissatisfied with the style or fit of commercial patterns?
would like to design your own clothes?
would you like to learn to copy your favourite styles?
Course arrangements
Sewing machines are provided.There's very little sewing required so it's probably not worth bringing your own. (But you can if you prefer).
You will also need some pattern-drawing equipment and your basic sewing kit. A 'Patternmaster' tool (dressmakers curved ruler) is essential and other items are recommended. Full details will be provided when you book.
Price includes 1m calico and paper pack.
Useful links:
The 'Patternmaster' and other pattern cutting equipment can be purchased from most good sewing supplies shops or Morplan, who are a supplier to the garment industry. An alternative patternmaster tool can be obtained from Amazon
Read my blog on Pattern Ease
Location:
Studio 6.03A St Margaret's House, 151 London Road
Edinburgh
EH7 6AE
Bookings
This event is fully booked.