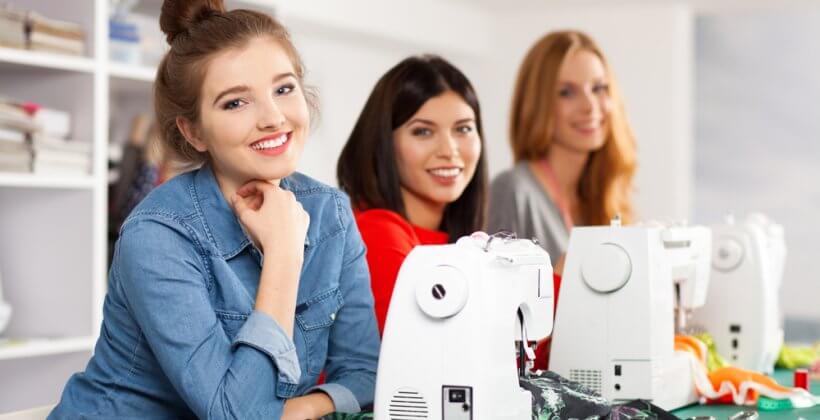 Bookings
Beginners Sewing Course XL – 2 days
This 2-day introductory course is a good starting point to learn expert sewing techniques whether you want to progress into dressmaking, soft furnishing or craft projects. It's also a great refresher if you've not sewn for a while. Why is it called 'XL'? – because it's an extended version of my classic 'Beginners sewing course'.  It has two additional projects to make. This extra practice gives you 50% more fun, and twice as much confidence.
This course runs on Friday 24th & Sat 25th November 2023 10am-5pm.
Course Description
Please read the entire course description and all the other information on this page and check here before booking. Once purchased, tickets are non-refundable. Ensure you have entered your information correctly. You will receive an automatic booking confirmation e-mail giving the dates and times of your class(es).  You should save this e-mail and add the event to your phone's calendar.
You'll learn how to understand sewing machines, get experience of using different stitch types,  learning about stitch lengths, widths and tensions. I'll explain what the different presser feet are for and you'll learn how to measure and cut fabric.
I've been sewing since I was a child and that's a lot of years experience. During that time, I've made every mistake in the book and learnt how to avoid them. Now you can benefit from my mistakes and learn to sew like a pro as I share my expert tips. I wish I'd known all this stuff when I started to sew.
Artisan Stitch holds a Certificate of Excellence is rated 'Best sewing classes in Edinburgh'.  A UK Enterprise award followed for Best Sewing Classes 2020 and the Best Private Sewing Education & Tuition 2021, Best Creative Textiles Workshop  2022, and Best Craft Course Provider 2023.
Artisan Stitch is the only course provider in Edinburgh and one of only two in Scotland, that is recommended by Queen Margaret University.
Level: Beginners (or as a refresher if you haven't sewn for a while)
Who is the Beginners Sewing Course XL aimed at?
Absolute Beginners (if you've never used a sewing machine before)
Novice sewists (if you've recently learned and would like to know a bit more)
Lapsed sewists (as a refresher if you haven't sewn for a while)
Adults aged 16 years and over
What will I learn?
How to use a sewing machine safely and confidently
How to wind bobbins and thread a sewing machine
Understand the importance of correct thread tension
How to sew perfect straight lines, smooth curves and turn corners
Learn three different seam types and when to use them
How to take up hems
Make machined buttonholes and how to sew in a zip
How to make three great sewing projects to practice your new skills:
          a lined reversible tote bag,
          I-pad/tablet cover,
          a zipped make-up bag,
(You will need to bring your own fabric for your projects – I'll provide details when you book.  Or choose my fabric pack which contains everything you'll need for the 3 projects. (Contains 2 x half-metres polycotton, 4 fat quarters, interfacing, wadding, zip & velcro. )
Course arrangements
Sewing machines are provided or you can bring your own if you have one. If you are considering buying one, then I'm happy to give advice on what to look for. I recommend Pembertons, the specialist sewing machine dealer.
Artisan Stitch operates a 'Covid-sense' policy in accordance with the Scottish Government's guidance for businesses and workplaces. Protection measures including wearing of face-masks are in place to safeguard the health and well-being of staff and attendees. If you have any questions or concerns, then please contact me for clarification BEFORE you book.
Links to related blog articles
My blog pages contain lots of informative articles about stuff you need to know when you start sewing. Why not spend a few minutes swotting up?  Here's a couple of links to get you started.
Get to the point. How to choose the correct sewing machine needles.
To have or have not. What sewing equipment do I need?
Here's where you can buy fabric and sewing equipment:
I have a mini-shop in the studio stocked with a small range of high-quality equipment at extremely reasonable prices (less than RRP).  Otherwise Hobbycrafts, The Range, Fabric Focus, Edinburgh Fabrics, Dunelm Mill, & John Lewis all have sewing equipment.  IKEA have fabric shears which are reasonable quality for only £5. Otherwise everything can be obtained from Amazon.
When you've completed your Beginners course, you'll be able to continue your sewing journey with Artisan Stitch by taking a Dressmaking course, make some soft furnishings, or perhaps try some of the creative textile workshops?