Scrappy cushion is a textile art workshop to show you how to use all those fabric leftovers to create a unique new embroidered cushion.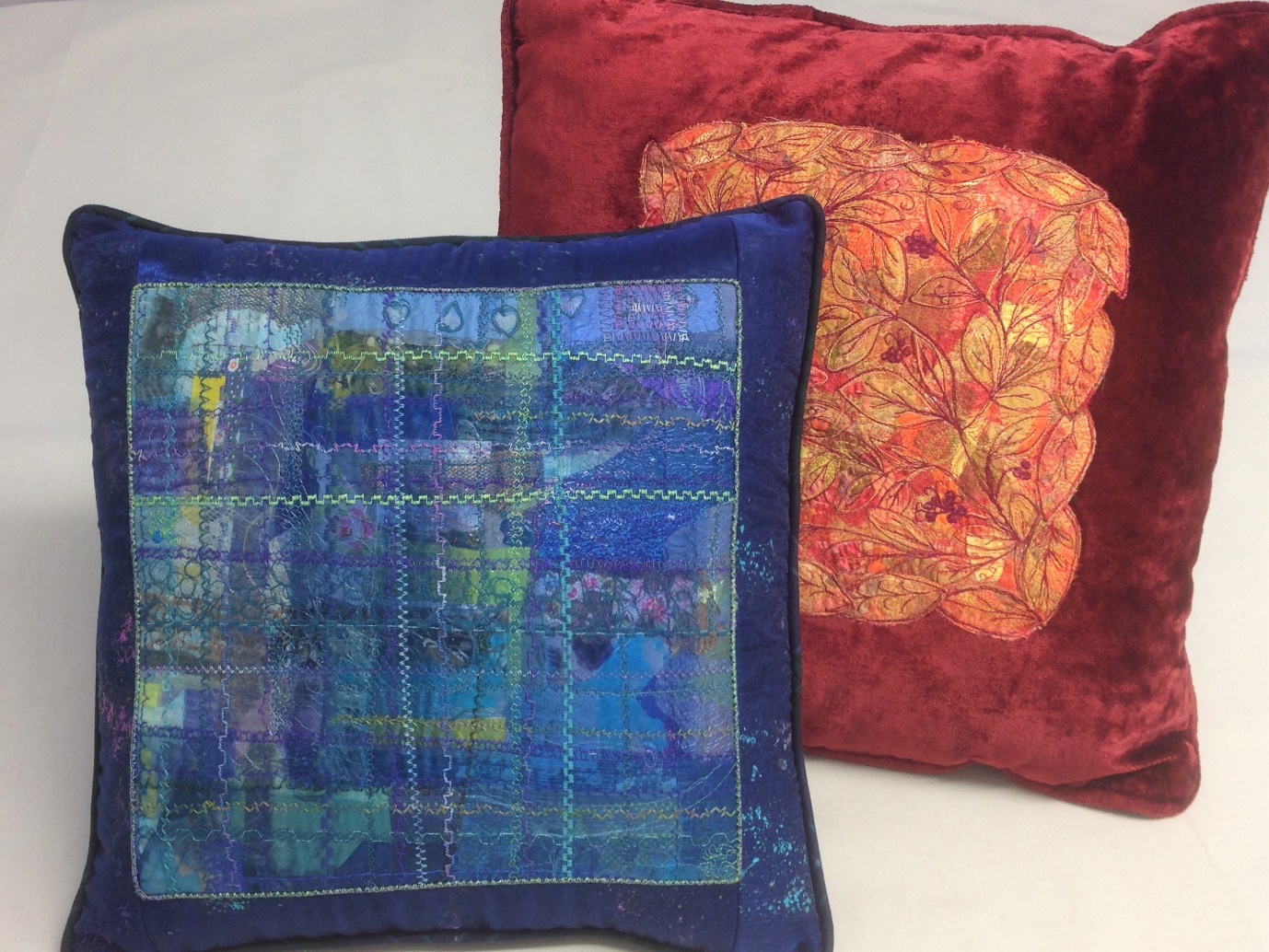 Level:
Intermediate. Basic sewing machine experience required.
When can I book?
Oops, you've just missed this. Check again soon for more dates.
Course description
Scrappy cushion is an easy and fun textile art workshop for anyone who can use a sewing machine. If you've collected a large stash of fabric offcuts, ribbons and trims, then this is perfect for using them to make a background for creative embroidery. Firstly I'll show you how to make new fabric from old. This is a fantastic way to upcycle and repurpose old clothing, and household textiles too. It's a true 'zero waste' project. Your new fabric is decorated with whatever utility or embroidery stitches you have available, and further ribbon or trims can be added on top. Your new stitched textile will be completely personal and unique.
Any fabrics can be used: craft cotton in small print pattern works well, but more luxurious fabrics like satin, velvet or brocade are lovely for adding richness. Lace and chenille add texture.
These techniques can be used to make a 'memory' cushion so you can bring along old childrens clothing, Grandma's vintage linens etc.
The lovely thing about this workshop is that every scrappy cushion is unique and personal.
When you've learned how to make upcycled fabrics, you can use them for lots of other things too. Embroidered panels look great in bags, clothing and to make cards and gift boxes.
Who is this aimed at?
Anyone who has basic sewing machine experience. No special art or embroidery experience is required, nor do you need a 'fancy' sewing machine. Ordinary utility stitches can produce attractive results.
What will I learn?
how to find inspiration for your colour palette
various backgrounds for your new fabric
different techniques for layering and bonding fabrics to prepare for stitching
how to use utility stitches of a sewing machine for decorative effects
how to measure up and cut fabric panels for the cushion
making up a cushion, including inserting a zip.
Course arrangements
Fabric leftovers are provided but you may want to bring your own if you'd like to work in a specific colourway. You'll also need to bring fabric for the back of your cushion, and a zip. Full instructions will be provided once you've booked.
Sewing machines can be provided or you can bring your own.
If you'd like to learn two totally different techniques to make new upcycled fabrics, then perhaps you'd prefer 'Rags to Riches' workshop?
For further information on recycling fabric, and ideas for projects, check out your local Scrapstore.