Upcycle your old jeans and fabric scraps to make this lovely Valentine hearts patchwork cushion.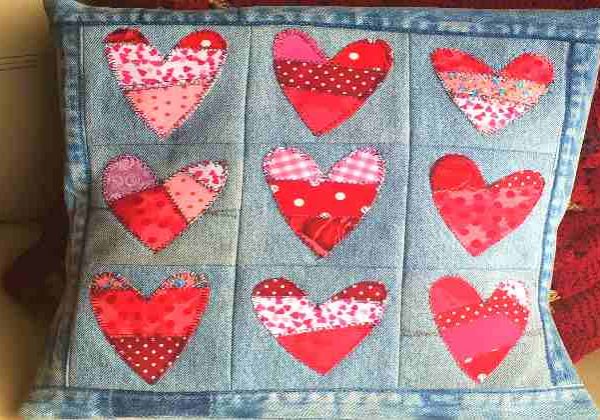 Level:
Improvers onwards (Basic sewing machine skills required)
When can I book?
Oops, you've just missed this. Check again soon for more dates.
Patchwork hearts is an easy embroidery workshop to show you how to upcycle old denim jeans and fabric scraps. Then you will turn them into a lovely new valentine-themed cushion.
Course description
Learn some easy machine embroidery techniques to use up scraps of fabrics.  Then turn your embellished panel into hearts and applique them onto the denim patchwork squares.  Finally, you'll learn how to make an envelope cushion. Or you can make a wall-hanging instead.
Your patchwork hearts cushion will be completely unique and the envy of your friends. For other recycling projects, why not try Rags to Riches too?
Who is this aimed at?
Anyone who'd like to use their sewing machine creatively.  Perhaps you're bored with dressmaking, or small craft items and are looking for new craft ideas?
What will I learn?
How to make new fabric from scraps
Bonding and layering techniques
Using a basic sewing machine for embroidery
What threads you can use
Applique
Simple patchwork techniques
How to make an envelope cushion (or you can back your panel to make a wall-hanging instead)
Course arrangements
Please bring a pair of old jeans (adult-sized). If using skinny jeans, then you may need two pairs.  You'll also need red and pink fabric scraps for your embroidered hearts.
Sewing machines are provided unless you'd prefer to bring your own. You'll need to bring all the accessories (presser feet), the instruction manual, and please make sure that you've got the power cable/foot control.
Memory Quilts
This technique is perfect to make a 'memory cloth' (a piece of fabric composed of various scraps of children's clothing, or mementoes of a loved one). So you could use Granny's favourite tablecloth, tea towels, a piece of curtain from your childhood bedroom, your baby's romper suit, Dad's old ties etc. The result would be something totally unique and personal which tells a family story.  If you don't want to make a cushion, then you could make your Memory cloth into a small wall-hanging. Just bring a piece of lightweight wadding.