Creative machine embellishing. How to use your embellisher machine to make textile art.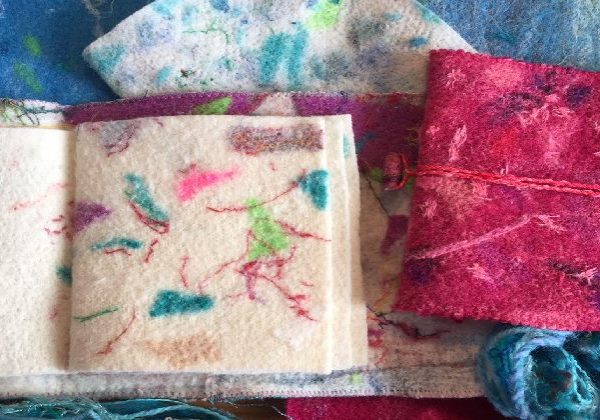 Level:
Beginners -Improvers.  If you've only just got an embellisher, or if you've had one for a while but haven't got past the most basic projects, then this is the class for you. You must be able to bring your own embellisher machine.
When can I book
Oops, you've just missed this. Check again soon for more dates.
Course Description
Creative machine embellishing will teach you how to use your embellishing machine in ways you've probably not explored yet. Embellishers are also known as felting machines, and they work using barbed needles to 'felt' fabrics and fibres. You can create interesting coloured and textured surfaces to use on their own, or as a base for free-motion embroidery. Embellishing or dry-felting is a common technique to make backgrounds as a surface for creative embroidery.
Who is this aimed at?
This is a textile art workshop for anyone who hasn't been able to fully-exploit the creative potential in machine embellishing using their needle-felting machine.
What will I learn?
Lots of ways to make different needle-felted surfaces for textile art and decorative projects:
how to use wool roving to add decoration to clothes
making felt fabric from merino wool tops
add texture to non-wool fabrics
add decoration to plain chiffon scarfs
creating new fabrics from fabric and felt scraps, and thread trimmings
creating braids and trims
how embellishing machines can be used to make surfaces as a base for hand or machine embroidery
easy felting project: how to make a needlebook using needle-felting.
Course arrangements
You will need to bring your own embellisher machine.  Please also remember the power cable/foot control, instruction manual, accessories and tools, and spare needles. If you do not bring these things and there is a problem with your machine during the class, then you may not be able to continue as spare parts are not available in the studio.
Some materials will also be provided but you are welcome to supplement these by bringing your own to personalise your felting projects. I'll provide a list of suggested materials when you book.
Embellishing machines are available from Pembertons Sewing Machine Centre.