Applique Cushion.  Try out three different methods of this traditional textile craft, then choose your favourite technique and make a cushion.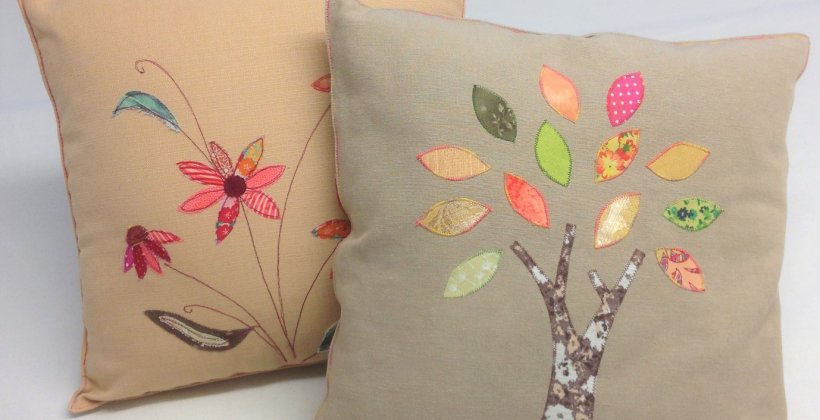 Level:
Improvers (basic sewing skills required).  If you've not yet learned how to use a sewing machine, then consider one of my Beginners Sewing Courses first. You will get maximum enjoyment from this workshop if you can already do free-motion embroidery.
When can I book
Oops, you've just missed this. Check again soon for more dates.
Course Description
This Applique cushion workshop will let you try out three different methods of applique.  The methods are traditional raw edge (or zig-zag), free-motion embroidery, then reverse applique, sometimes known as 'Cut through'.
Then choose your favourite method to create a unique picture panel, and make it into a lovely new cushion. Use your own design or one of mine, it's up to you.
An applique cushion is an ideal upcycling project's as you can use up pieces of old clothes. It's also one way of using treasured family heirlooms. This is one of my most popular textile art workshops.
Who is this aimed at?
Anyone who can already use a sewing machine and would like to explore its use for creative projects.  Applique is a traditional textile art and is easy and fun to do to decorate clothes, bags, cushions, children's bedding etc.
What will I learn?
how to plan a design for applique
how to prepare your fabric pieces
using bondaweb to secure your design before stitching
using zig-zag (satin stitch), free-motion embroidery and cut-through methods
making a cushion: envelope style or how to sew in a zip. You can make your applique design into a tote bag if you prefer.
Course arrangements
Fabric scraps for the applique pieces are available in the studio but you will need to bring enough fabric for the cushion panels (about 0.6cm of midweight cotton-type fabric 150cm wide is ideal for a 40cm cushion*) If you'd like to add a zip, then we can do that too. Bring one that's around 6-8cm shorter than the measurement of your cushion. (*Please ask for help with fabric quantities if you're unsure).  If you have a specific design and colours in mind, then you may wish to bring all your own fabric as I can't guarantee I'll specific quantities and colours of fabric in the studio.
Sewing machines are provided or you can bring your own if you prefer. Please bring the instruction manual, bobbins, all the accessories (presser feet), and check that you have your power cable/foot control.
You should already be able to use a sewing machine confidently, be able to sew straight, even seams, and understand how to neaten raw edges.
There will be a break for lunch during the day.
Applique is one of the most ancient textile arts.  Read about the history of applique.