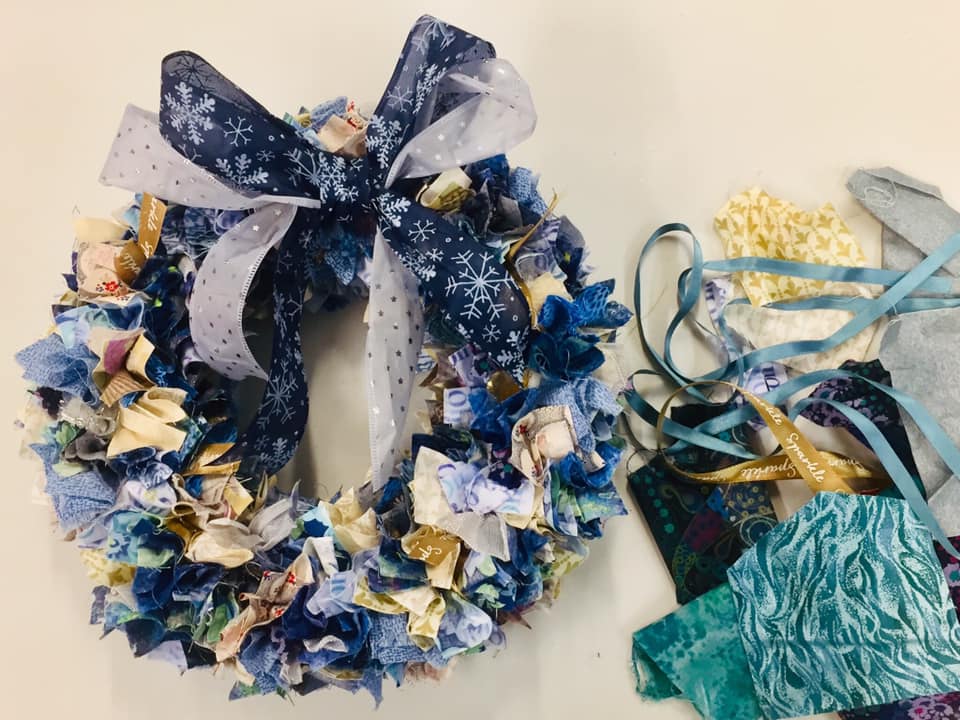 Friday 11/12/2020
6:00 pm - 8:30 pm
Booking is currently closed
Prices : £35.00
Rag Wreath Party- Have fun and prepare for Christmas
Homemade christmas decorations are always much better than shop-bought.  This stunning Rag Wreath will be the highlight of your decor, and is really easy to do. You can personalise the colours to match your colour scheme, and learn upcycling skills by using up lots of fabric leftovers too.
This is an easy no-sew class and an ideal activity to spend an evening, preparing for the big day. There's not many things to do at the moment, so why not try this?
Let's face it, this is the closest most of us are going to get to a Christmas Party this year!
Who is this aimed at?
This is an adults only class.  There is a rag wreath-making class for children on 5  December.
No sewing skills are required. Just turn up and have a laugh! The studio operates stringent covid-protection measures and participants will be socially-distanced.
Course arrangements
All materials are included. Just turn up – preferably in your party frock!
(Under current restrictions, I'm not permitted to provide food and drink but feel free to bring your own).
In the event of a further lockdown, this event will be cancelled and full refunds given.
Related links:
For more fabric upcycling ideas, check out my 'Rags to Riches' or 'Rags to Bags' workshops (adults)
Location:
Studio 6.03A St Margaret's House, 151 London Road
Edinburgh
EH7 6AE
Bookings
Bookings are closed for this event.